ASIAN PLASTIC SURGERY SEATTLE BELLEVUE
By Seattle's Award Winning Beauty Theorist Dr. Philip Young:
Learn why a Professional Sports Team Coach, Grammy Nominee, Seattle & New York Broadway Lead Actresses, Executives of Fortune 500 Companies, & The Owner of the Northwest Women's Show have Chosen Seattle's Asian Plastic Surgery Expert Dr. Philip Young and Our Team!
Warning Graphic. Live Video Demonstration of the Asian Double Eyelid Crease Forming Procedure by Seattle's Dr. Philip Young:
Maintain your ethnicity and feel beautiful for that next special moment. Improve your looks with a plastic surgeon who specializes in the Asian | Ethnic Population.
Below is our feature before & after Asian Double Eyelid Crease Blepharoplasty Eyelift. Below are some helpful links, as well as a link to more before & afters:

Before Asian Double Eyelid Crease Formation Blepharoplasty and Medial Epicanthoplasty for Epicanthal Folds

After Asian Double Eyelid Crease Formation Blepharoplasty and Medial Epicanthoplasty for Epicanthal Folds
Above Asian Double Eyelid Before & After: is of an Asian 20 something year old patient.
Asian Plastic Surgery Topic Link
Our Featured Asian Plastic Surgery Testimonial:
"I love my nose. People think I look better but they don't really know what was done. The results were really natural" - E.C. 20's Asian Chinese American Female from Washington State
Click here to see our Asian Cosmetic Surgery Blog
Beauty can be that little difference:
More people are realizing how Beauty can make that little difference in our lives. just like these people, you can also have these same positive changes through Asian Plastic Surgery and benefit from what Beauty can bring to you. Studies have shown that Beautiful people are more likely to be seen as more intelligent, honest, ethical, and successful among other things (click here for more Facts & Studies on Beauty's Benefit). There are advantages given to the beautiful that have likely been present for longer than we could record in our history books. Dr Young, who studies Beauty and has written many articles in scientific journals and magazines, knows that our appreciation for order is deep in our most basic part of our brain. Instead of being a superficial trait, Beauty perhaps is one of the deepest forces that govern human nature. Just like how we like a circle to be perfectly round, we want things ordered and happy in our lives. In other words, humans have a high preference for order. This same preference is also related to our desire for Beauty. Essentially, Beauty is really just order in the face. You can click here to: Learn the Beauty Advantage. You can also learn more about Dr. Young's discoveries here: Dr Young's Theory on Facial Beauty.
Award-Winning, Double Board Certified and Published Author Dr. Philip Young is an expert in the Plastic Surgery of the Asian | Ethnic Patient.  He has over 12 years of experience in this area of expertise and has trained with some of the world's best Facial Plastic Surgeons. Click here to find out what makes us special: Top Ten Reasons to choose Dr. Philip Young. There you will find some of the qualities that have attracted people from around the world to come see Dr. Young (including Germany, Australia, England, China, Korea, Japan, and the Netherlands, not to mention people all over the United States and Canada). However, above all these things, what makes us special is Dr. Young's groundbreaking Theory on Facial Beauty called the Circles of Prominence.
Here is a link to our testimonials: Aesthetic Facial Plastic Surgery Testimonials
More on Asian Ethnic Plastic Surgery:
Cosmetic surgery for the Asian | Ethnic population requires an understanding of the balance of all facial features, as well as mastery of the precise techniques of Asian | Ethnic Eyelid Surgery, Asian | Ethnic Rhinoplasty | Nose Plastic Surgery and jaw reshaping. As a leading Seattle Asian cosmetic surgery specialist, Dr.Philip Young has performed more than 3,000 cosmetic and reconstructive procedures to enhance the beauty of Caucasians, Asians and patients of other ethnic backgrounds. Applying the principles of his world renowned theory on facial beauty, the Circles of Prominence, Dr. Young and his team have an incredible advantage in tailoring each treatment to help every African, Asian, Caucasian, Hispanic | Latino patient attain harmony and balance. Click here to read his paper, The Circles of Prominence, a new theory on facial beauty.
Asian Ethnic Plastic Surgery Helpful Links Below:
Here are some more links & pages for you below and to the right to learn more about Asian | Ethnic Plastic Surgery:
Schedule your consultation with Dr. Young to learn more about the beautiful results that can be achieved through Asian | Ethnic Cosmetic Surgery in Seattle | Bellevue.
&nbsp
Asian Ethnic Plastic Surgery Before After Images:
Before Rhinoplasty, Nasal Tip Surgery for nasal tip refinement, nostril shaping, and nasal bridge shaping for better balance. Weir Excisions | Wide Nose Correction was also done.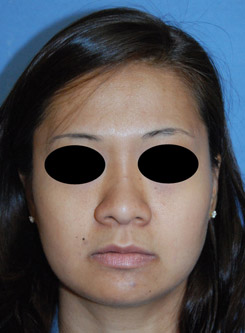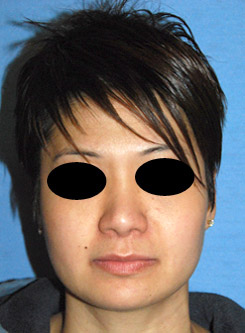 For the Picture Above: "I knew that I wanted my nose smaller but didn't know that making some parts of the nose bigger would help with the overall aesthetics of my nose. I'm really happy with the plan that you made for my nose and I think it looks so much better"-L.W.

This is a picture to show you how the incision can heal. This is after the double eyelid crease formation procedure 1 year after.
 Click here for more Asian Plastic Surgery Before & After Photos
If you are interested in scheduling an appointment you can email, call  425-990-3223 (Office) and even text message 425-505-0938 (Mobile) us at anytime. Click here if you would like to find out more about our consultation process. If you live out of town, we can schedule a phone consultation with you and show you how to take the five basic photos you will need. For more information on preparing for your procedure, we have an informative Plastic Surgery Patient Care Page and Wound Care and Scar Prevention Page. If you are having a procedure, it is important to stay off blood thinners and the listed medications to avoid for two weeks before and two weeks after the planned date of your procedure.
Asian Ethnic Plastic Surgery Learning Videos by Dr. Young:
Below is a video on Revision Rhinoplasty we did for an Asian Ethnic patient
This Asian Ethnic Patient had an implant that was starting to come out of the nose. We revised it with a septal and ear cartilage graft for the tip and a new silicone implant that was placed superiorly in the bridge. The trend now is to use native cartilage for the tip and artificial implants or natural grafts for the nasal bridge. In this case we used a silicone implant for the nasal bridge dorsum:
Click here for more Asian Plastic Surgery Learning Videos
Click here to visit our Videos by Dr. Young
Click here to visit Dr. Philip Young's Youtube Page
* To reduce the risk of bruising, you will be advised to stop taking fish oil, Vitamin E, herbal medications, supplements, aspirin and anti-inflammatories 1-2 weeks prior to treatment, if possible. Inform Dr. Young of all of your prescriptions, over-the-counter remedies and herbal supplements, oral or topical products, and if you may be pregnant.
Please consult our Patient Care section for more helpful information. You can also read about our privacy policy on the resource page as well.