CHEMICAL PEEL
By Beverly Hills Trained, Sir Harold Delf Gillies Awarded Beauty Theorist, Published Author & Facial Plastic Surgeon Dr. Philip Young. Learn Why People All Over the World Have Chosen Dr. Philip Young and Discover our Beauty Theory Advantage.
Feel better and have people asking you about your secrets to skin care. Chemical peels can rejuvenate your skin by decreasing hyperpigmentation, sun spots and fine wrinkles.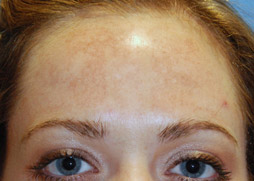 Before Chemical Peel to Improve Skin Tone | Appearance and Reduce Sun Spots | Hyperpigmentation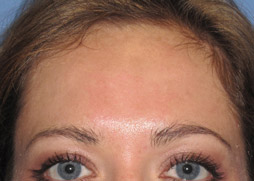 After Chemical Peel to Improve Skin Tone | Appearance and Reduce Sun Spots | Hyperpigmentation
Chemical Peel Topic Link
Our Featured Chemical Peel Testimonial:
"I'm very excited with the change in my skin in just two treatments! I can't wait to continue with my regular peels to get the best results with Dr. Young." – Kate H. 20's White Female Corporate Sales Person. Seattle, Washington
Click here to see our Chemical Peels Blog
Here is a link to our testimonials: Aesthetic Facial Plastic Surgery Testimonials
Learn the Benefits of Beauty:
Are you tired of looking weather and aged? Do you feel like you've lost the confidence that you've had in the past. Rejuvenating your skin through Chemical Peeling can help you feel refreshed. Feeling a little better about yourself can sometimes make everything that happens in your life in a little better as well. Dr. Philip Young who has studied beauty for the past 12 years and who has developed a New Theory on Facial Beauty, knows how beauty can tip things in your favor. Click here to learn more about the benefits of beauty.
Find out why people travel around the world for Dr. Philip Young's services here: Top Ten Reasons to choose Dr. Philip Young.  Double board certified Dr. Young received the Sir Harold Delf Gillies Award from the American Academy of Facial Plastic and Reconstructive Surgery for his Theory on Facial Beauty. He uses his advanced knowledge based on this theory and 24 years of higher education and the practice of medicine to bring you the best thoughts & methods on skin care and chemical peeling.
This is our current beginners skin care regime instructions (Click here to learn more about our Scientific Skin Care Regime that incorporates At Home Glycolic Peels:
In terms of the at home glycolic peels you only want to start that on Sunday night once a week. Basically put it on and take it off and don't leave it on very long at all. You can then increase it by the number of times of week and how long you keep it on as tolerated. Dont put any skin products on after this.
Start the Retin A on Wednesday and only do that once a week as well. You can increase that as tolerated and for each of the products you never want to put it on if you are ever red or irritated.
For the Glycolic Cream 10% or the Rebrightalyzer Kit, do this once a week for starters and do it on fridays. You can increase that as tolerated but you never want to put it on if you are ever red or irritated.
More on Chemical Peeling
A chemical peel exfoliates the skin's top layers to reveal the softer and healthier skin below. Chemical peels are used to treat a variety of skin conditions, including environmentally damaged/hyperpigmented, acne prone and even sensitive skin types. In many cases, wrinkles caused by sun damage, age and heredity can be reduced and eliminated through the use of a series of chemical peels. Irregular skin pigmentation, sun-damaged skin, and even pre-cancerous keratoses may also improve as a result of chemical peels. This particular procedure can increase the skin's tolerance to external factors and control acne. The strength of the chemical peel is determined by each Seattle chemical peel patient's individual skin type and the degree of damage to the skin.
We offer an array of peels by our licensed aestheticians and registered nurses, including the Vitalize Peel by SkinMedica™, Jessner's, Trichloroacetics acid and glycolic acid peels.
For one week before and after your peel, you may be advised to stop using electrolysis, waxing, depilatories, masks, peels or dermabrasion, Tretinoin (Vitamin A creams) and aggressive cleansing with Loofas.
You should avoid direct exposure to the sun for extended periods of time for the first week or two, after your peel. During the first two weeks post-peel, you should also avoid other activities that would aggravate your skin such as exfoliation or waxing.
After a chemical peel you will be instructed to care for your skin much like how we care for our patients after CO2 resurfacing. You will recover much faster with lighter, more superficial peels while deeper peels will be more akin to the recovery you will have with CO2 laser resurfacing. In general, we advise that you follow the same post procedure care as with CO2 resurfacing until your skin completely epithelizes and show one or all of these signs:
1. stop peeling;
2. stop having oozing and crusting,;
3. or have complete regeneration of your skin that is indicated by pink healthy skin. We highly suggest that you consider reading all the links on the page on laser resurfacing, especially after a more aggressive chemical peel (medium or deep depth chemical peel). Once you have completely epithelized, you can then start your regular skin care regimen which we usually suggest something like cetaphil gentle cleanser and lotion (or something equivalent). You will want to start slowly on your regular skin care at first and make sure that you are not too sensitive to it initially. Increased sensitivity to your regular products is possible initially. We can suggest some products based on what your skin type is at this stage.
Below are some videos for you to watch. We included CO2 resurfacing to give you an idea of another option for resurfacing for your skin. The type of chemical peels that we do can range from very minimally invasive to significantly deeper. One thing to remember is that the more aggressive you approach the chemical peel, the more results you will get but also the more recovery and more risks.
Chemical Peel Before & After Images
Below is a before and after a Chemical Peel Using Trichloroacetic Acid, Jessner's, Dermasanding for the Cheek and Upper Neck Area: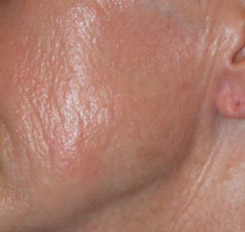 Before Chemical Peel Trichloroacetic Acid, Jessner's, Dermasanding Cheek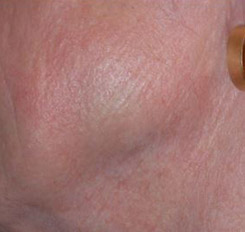 After Chemical Peel Trichloroacetic Acid, Jessner's, Dermasanding Cheek
 Click here for more Chemical Peel Before & After Photos
If you are interested in scheduling an appointment you can email, call  425-990-3223 (Office) and even text message 425-505-0938 (Mobile) us at anytime. Click here if you would like to find out more about our consultation process. If you live out of town, we can schedule a phone consultation with you and show you how to take the five basic photos you will need. For more information on preparing for your procedure, we have an informative Plastic Surgery Patient Care Page and Wound Care and Scar Prevention Page. If you are having a procedure, it is important to stay off blood thinners and the listed medications to avoid for two weeks before and two weeks after the planned date of your procedure.
Chemical Peel Learning Videos by Dr. Young
 Click here for more Chemical Peel | Resurfacing Learning Videos
 Click here to visit our Videos by Dr. Young
 Click here to visit Dr. Philip Young's Youtube Page
* To reduce the risk of bruising, you will be advised to stop taking fish oil, Vitamin E, herbal medications, supplements, aspirin and anti-inflammatories 1-2 weeks prior to treatment, if possible. Inform Dr. Young of all of your prescriptions, over-the-counter remedies and herbal supplements, oral or topical products, and if you may be pregnant.
Please consult our Patient Care section for more helpful information. You can also read about our privacy policy on the resource page as well.