SEATTLE BELLEVUE CHIN IMPLANT | AUGMENTATION | RESHAPING
To start with, we would suggest watching this Introductory Video on Facial Implants.
Click here to see more Chin Facial Implant videos with our Facial Chin Implant Playlist!
Feel more confident with a beautifully enhanced jawline. Chin augmentation can be your simple answer.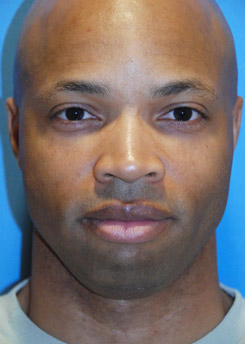 Before Chin Augmentation | Implant Plastic Surgery using a Custom Chin Implant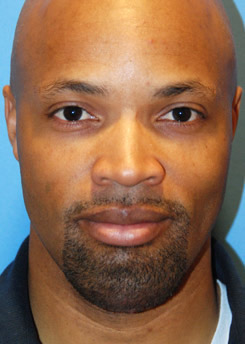 After Chin Augmentation | Implant Plastic Surgery using a Custom Chin Implant
Above: 30's African American Male from Washington
Chin Implant Reshaping Topic Links:
Our Featured Chin Implant Testimonial:
"Dr. Young I just wanted to tell you that the Chin Implant you placed really changed my life. I just didn't have the chance to tell you before. Thank you!" - -M.S. 30's Asian Female Business Owner from Seattle, Washington
Here is a link to our testimonials: Aesthetic Facial Plastic Surgery Testimonials
Chin Implant of Seattle Bellevue
Learn the Beauty Advantage:
Has someone ever quietly suggested that your chin might be missing something? Is there an element that seems to be missing in the lower part of your face or your face in general but you don't know what it is? Well, you might benefit from enhancing your chin with a Chin Implant just like our patients that you see on these pages. Bringing more balance to your face and enhancing your beauty with a Chin Implant could be the solution you're looking for. You can do something for yourself and feel more confident during your everyday moments. In life, the little things matter. Our expanding knowledge on so many things in our world are also elucidating the power of Beauty - the seemingly little thing that can make big things happen. Dr. Young, who developed a New Theory on Beauty, knows this all too well. The Chin commands the lower third. The power of the lower third of the face determines our masculinity and femininity. It hints at the emotional aspects of our looks in a subtle but powerful way. The bottom part of the face serves as a base of what this part of the face represents, while the lips give us the overt elements of the emotional aspects that our face can convey in this area. Most importantly, Beauty can give us a tremendous advantage in every aspect of our lives and you might be able to do something about it. You can click here to learn more about the Benefits of Beauty.
More on Chin Implant Augmentation:
During Dr. Philip Young's time in Beverly Hills with the University of Southern California and during the past 24 years of higher education and the practice of medicine (he graduated high school in 1989), he trained with some of the world's most famous facial plastic surgeons. Through this, Dr. Young has gained a tremendous amount of experience with Chin Implants and the art of Chin Augmentation | Enhancement. Our chin implants aresolidly fixed and placed utilizing the most reliable methods that have been tested over time. We have over 12 years of experience getting excellent results with chin implants | augmentation. See more Reasons to Choose Dr. Young and Aesthetic Facial Plastic Surgery.
Many Bellevue | Seattle chin augmentation | silcone implantation patients have a chin that is too small, or weak for their face, which may also make the nose appear longer than it really is. Oftentimes, the use of a chin implant can make the face appear more balanced. To achieve these goals, Bellevue's Dr. Young (Seattle chin reshaping surgeon) will need to understand what makes a face beautiful and what doesn't. This is where facial aesthetics come into play, the goals by which surgeons modify their techniques to achieve beauty. Dr. Young discovered through his training and experience seeing the results of many other surgeons, that these goals or aesthetics were outdated. Many surgeons were unable to define true beauty and hence the results of cosmetic surgery were often unnatural. Learn about Dr. Young's Theory on Facial Beauty.
As a dedicated Seattle facial cosmetic surgeon, Dr. Young went on a mission to find out the answer. After 4–5 years of research, he discovered his exciting theory of facial beauty, coined the Circles of Prominence. To bring out the proper balance of your face with chin reshaping, Dr. Young applies the concepts of his award-winning theory on beauty, along with his training and experience in performing over 1,200 face, neck and eyelid surgery procedures and over 3,000 other cosmetic and reconstructive procedures. The culmination of this learning and surgical experience has lead to his exciting technique on facial rejuvenation that can also be applied to chin reshaping called the YoungVitalizer.
To achieve the results his chin reshaping Seattle / Bellevue patients desire, Dr. Young may employ:
Injectable dermal fillers, such as Restylane®, Perlane®, Radiesse®, Juvederm®, which can last up to eighteen months, depending on the product and your body's metabolism.
Using permanent Chin / Facial Implants chosen to provide balance to your face, Dr. Young can produce a natural effect. Incisions are done through the mouth or below the chin. The procedure can also greatly enhance face-lift results, as chin projection may decrease with aging. After healing, the skin drapes smoothly over the implant, which conforms to the bone and is usually undetectable. The added projection of the chin results in significant improvement, which is especially apparent from a side profile view.
Fat transfer a relatively new way of transforming your face through minimally invasive means. With this technique, Dr. Young can reshape your chin and mouth area to suit your needs and desires.
In a chin reduction procedure, incisions are made either in the mouth or under the chin, and Dr. Young will sculpt the bone to a more pleasing shape and size.
The Young Vitalizer, The Breakthrough Incision Less Face Lift Alternative
We also have a nice page on creating a Custom Facial Implant with a Live Video Demo of a 3D Modeling Session that can also be done with the Chin as well.
Chin Implant Augmentation Before & After Images: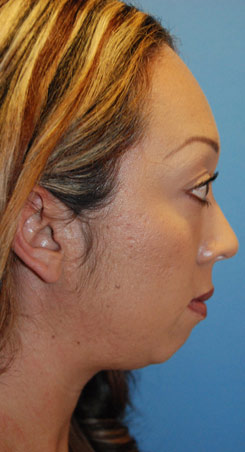 Before Chin Augmentation | Implant Plastic Surgery using a Custom Chin Implant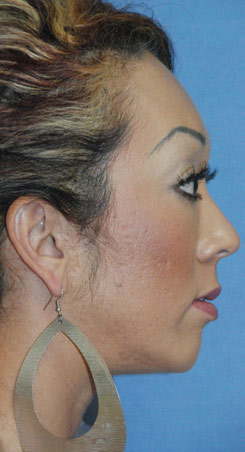 After Chin Augmentation | Implant Plastic Surgery using a Custom Chin Implant
For the Picture Above: "Dr. Young I just wanted to tell you that the Chin Implant you placed really changed my life. I just didn't have the chance to tell you before. Thank you!"-M.S.
 Click here for more Chin Implant | Reshaping Before & After Photos
If you are interested in scheduling an appointment you can email, call  425-990-3223 (Office) and even text message 425-505-0938 (Mobile) us at anytime. Click here if you would like to find out more about our consultation process. If you live out of town, we can schedule a phone consultation with you and show you how to take the five basic photos you will need. For more information on preparing for your procedure, we have an informative Plastic Surgery Patient Care Page and Wound Care and Scar Prevention Page. If you are having a procedure, it is important to stay off blood thinners and the listed medications to avoid for two weeks before and two weeks after the planned date of your procedure.
Chin Implant Augmentation Learning Videos:
Click here for more Chin Implant | Reshaping Learning Videos
 Click here to visit our Videos by Dr. Young
 Click here to visit Dr. Philip Young's Youtube Page
* To reduce the risk of bruising, you will be advised to stop taking fish oil, Vitamin E, herbal medications, supplements, aspirin and anti-inflammatories 1-2 weeks prior to treatment, if possible. Inform Dr. Young of all of your prescriptions, over-the-counter remedies and herbal supplements, oral or topical products, and if you may be pregnant.
Please consult our Patient Care section for more helpful information. You can also read about our privacy policy on the resource page as well.