FACIAL, CHIN, JAW, CHEEK, TEMPLE IMPLANTS SEATTLE BELLEVUE
By Award Winning Beauty Theorist Dr. Philip Young
Learn Why a Grammy Nominee, Seattle & New York Broadway Lead Actresses, Executives of Fortune 500 Companies, a Professional Sports Team Coach, & The Owner of the Northwest Women's Show have Chosen Seattle's Facial Implant Surgeon Dr. Philip Young and Our Team.
See our Facial Implant Video and How Seattle's Dr. Young's Award Winning Theory on Beauty is applied to the application of Facial Implants:
Feel renewed and achieve the improved look that you've always envisioned. Facial implants can beautifully enhance your features.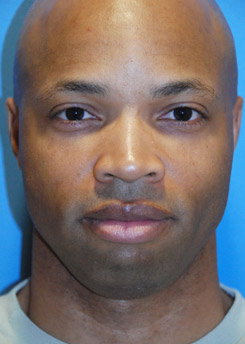 Before Chin Augmentation | Implant Plastic Surgery using a Custom Chin Implant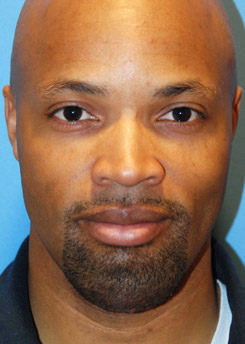 After Chin Augmentation | Implant Plastic Surgery using a Custom Chin Implant
Seattle's Award-Winning Beauty Theorist and Facial Implant Plastic Surgeon Dr. Philip Young is in expert in the Plastic and Reconstructive Surgery of the Face & Facial Implants. Find out more unique things about us by clicking here: Top Ten Reasons to Choose Dr. Philip Young. Through his 5 years of experience working with renowned facial plastic surgeons in Beverly Hills and his over 24 years of higher education and the practice of plastic surgery, Dr. Young brings you the most advanced knowledge and methods into the enhancement of your face through Facial Implants.
Facial Implants Topic Link
Click here to see our Facial Implants Blog
Here is a link to our testimonials: Aesthetic Facial Plastic Surgery Testimonials
More on Facial Silicone & Medpor Implants of Seattle Bellevue:
The skin over the face is similar to a drape. The shape of the face is determined by the underlying skeletal framework and, for some individuals; this framework is not as pronounced as can be seen in a flattened face or small, recessed chin. It is during situations like this that facial implants with chin, jaw, cheek, temple, etc implants can markedly enhance your appearance.
In a consultation, Dr. Young may discuss adding facial implants to the facial skeleton to accentuate the areas of the cheek, chin, nose, and angle of the lower jaw. These skeletal augmentations re-drape and tighten the skin of the face to provide a more youthful appearance without the need for a more extensive lifting procedure. For example, a teenage girl may want her nose reshaped or chin brought forward to improve her proportion. Or as part of a facelift, a Bellevue / Seattle facial cosmetic surgery patient may wish to have implants placed over the cheekbones to help restore a more youthful appearance. Implants may also be selected to fill out a face that appears "sunken" or tired.
Helpful Links on Facial Augmentation Implants:
Below is our developing list of helpful links to help you learn more about facial implants and help you get prepared for your procedure:
When you come in for your consultation we will discuss all of your options, questions that you may have about Facial Implants. At some point, we will then explain the different types of implants that we use. The 2 main implants that we prefer are Silicone and Medpor (porous polyethylene).
Silicone Implants are soft and feel like you own tissue. Silicone is very close in chemical composition to Carbon which makes up our tissues. This allows silicone implants to have great compatibility when they are implanted into our bodies. Most work on silicone implants are in the area of breast implants / implantation. Silicone implants never really get integrated with the body's tissues. A capsule forms around the implant and this capsule can be soft and sometimes we have noticed when we do revisional work for people who have had implants elsewhere, that the capsule is formed by bone at times. We prefer silicone implants in the cheeks, chin, lateral jaws, and lips.
Medpor Implants are made of porous polyethylene. This implant is porous, so there are little holes all over the implant. The pore size is around 100microns. This allows blood vessels to grow into the implant. This allows the blood vessels to fight any infection that could develop in these pores. The time to integration is around 12 weeks. After this time point, the medpor can start acting like your own tissues. Early on, the chance of infection is a little higher for medpor implants versus silicone implants. But after 12 weeks, the chance of infection is lower compared to silicone in our experience. The literature suggests that both implants are comparable in infection rates and the need to take the implant out was close in a meta study done in this article, The Use of Alloplastic Materials in Rhinoplasty Surgery: A Meta-Analysis Peled, Ziv M. M.D.; Warren, Anne G. B.A.; Johnston, Patrick M.Math.; Yaremchuk, Michael J. M.D. Plast. Reconstr. Surg. 121: 85e, 2008. We prefer using medpor implants in our rhinoplasties and chin implants that are not done in conjunction with jaw implants.
Dr. Young is a highly accomplished Seattle facial implants specialist. He has performed more than 1,200 face, neck, and eyelifts, and over 3,000 other cosmetic and reconstructive procedures. Along with his understanding of facial aesthetics based on his award-winning theory on the balance of beauty, his use of facial implants can give you the natural, youthful results you desire.
Facial Enhancement Implant Before After Images: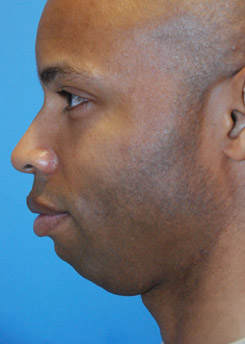 Before Chin augmentation using a custom size silicone implant (Side View).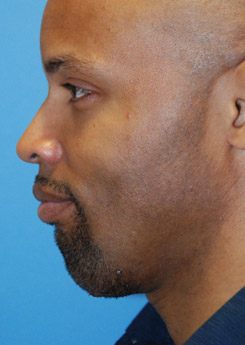 After Chin augmentation using a custom size silicone implant. Photos taken 1 week post-op (Side View).
Click here for more Facial Silicone Implants Before & After Photos
If you are interested in scheduling an appointment you can email, call  425-990-3223 (Office) and even text message 425-505-0938 (Mobile) us at anytime. Click here if you would like to find out more about our consultation process. If you live out of town, we can schedule a phone consultation with you and show you how to take the five basic photos you will need. For more information on preparing for your procedure, we have an informative Plastic Surgery Patient Care Page and Wound Care and Scar Prevention Page. If you are having a procedure, it is important to stay off blood thinners and the listed medications to avoid for two weeks before and two weeks after the planned date of your procedure.
Learning Videos on Facial Implants by Dr. Young:
 Click here for more Facial Silicone Implants Learning Videos
 Click here to visit our Videos by Dr. Young
 Click here to visit Dr. Philip Young's Youtube Page:
* To reduce the risk of bruising, you will be advised to stop taking fish oil, Vitamin E, herbal medications, supplements, aspirin and anti-inflammatories 1-2 weeks prior to treatment, ifpossible. Inform Dr. Young of all of your prescriptions, over-the-counter remedies and herbal supplements, oral or topical products, and if you may be pregnant.
Please consult our Patient Care section for more helpful information. You can also read about our privacy policy on the resource page as well.