FAT TRANSFER | GRAFTING | INJECTIONS | AUGMENTATION of SEATTLE BELLEVUE
By Seattle's Beverly Hills Trained, Medical Mission Contributor & Fat Transfer Surgeon Dr. Philip Young & Prestigious Vanderbilt Trained Dr. Rikesh Parikh. Discover Why People All Over World Travel to See Dr. Young and Our Team & Discover Dr. Young's Beauty Theory Advantage.
Look and Feel Younger in a Natural Way. Fat Grafting is the minimally invasive approach that can achieve this.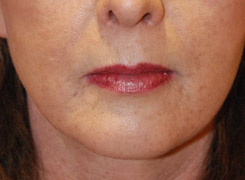 Before Use of the YoungVitalizer to Augment the Lips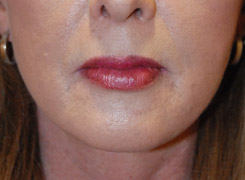 After Use of the YoungVitalizer to Augment the Lips
Fat Transfer Topic Link
Our Featured Fat Transfer Testimonial:
"I love my lips." — M.K. 50's Female from Everett Washington
Here is a link to our testimonials: Aesthetic Facial Plastic Surgery Testimonials
Beverly Hills trained and Double Board Certified Facial Plastic Surgeon Dr. Philip Young is an expert in Facial Fat Transfer | Grafting | Injections. He is a published author of multiple peer reviewed scientific articles and chapters in major textbooks in Facial Plastic and Reconstructive Surgery. Learn about the many unique reasons to choose Dr. Young and our Team. Perhaps, the most important thing to consider is (1) Dr. Philip Young's discovery of a New Theory on Facial Beauty that he continually finds fascinating new information regarding this topic. His understanding on Facia Beauty allows advanced knowledge to get the best results available for your face through fat grafting. (2) We also feel we have an advantage in facial fat grafting because of our improved understanding about the aging process. Through these 2 main elements we believe that we can make you look younger while achieving the most natural results.
More on Facial Fat Grafting, Injections of Seattle Bellevue:
As a leading Fat Transfer Specialist, Seatte Facial Plastic Surgeon Dr. Young recognizes losing volume within the face is one of the main factors in contributing to a person's aging appearance. Fat transfer is a revolutionary way of rejuvenating one's face by adding volume through no incisions. All that is needed are injections to achieve the results. Fat transfer can plump up facial features with your own fat to eliminate wrinkles and re-contour your face, providing definition to your cheeks and chin. Since fat transfer uses your own fat cells, there is essentially no risk of an allergic reaction. Fat is lipo-suctioned from your abdomen, thighs, buttocks or knees and then transferred to another area of your body. This type of procedure can be used to bring more youth to your eyes, plump up thinning lips, accentuate your jawline, lift up your sagging cheeks and bring more youth to the area around your mouth. It can also be used to correct aging hands.
Helpful Links on Facial Fat Grafting:
To learn more about Fat Injections you can click the following links that are in alphabetical order below:
Knowing what makes a face beautiful is essential in establishing the goals one strives for when approaching cosmetic procedures. Having this knowledge can lead to more natural and more beautiful results. With Dr. Young's experience and internationally-acclaimed theory on aesthetics, he can help you achieve the younger, natural and more lively look you desire through fat transfers / fat injections.
Fat Grafting Before After Images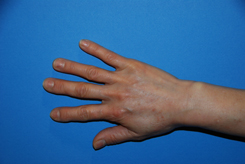 Before Fat Grafting | Augmentation | Injections to Rejuvenate the Hands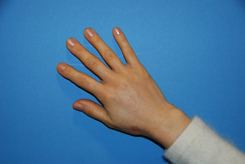 After Fat Grafting to Rejuvenate the Hands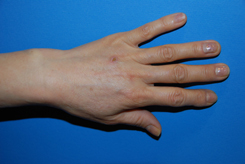 Before Fat Grafting | Injections | Augmentation to Rejuvenate the Hands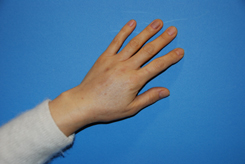 After Fat Grafting | Injections | Augmentation to Rejuvenate the Hands
Click here for more Fat Transfer Before & After Photos
If you are interested in scheduling an appointment you can email, call  425-990-3223 (Office) and even text message 425-505-0938 (Mobile) us at anytime. Click here if you would like to find out more about our consultation process. If you live out of town, we can schedule a phone consultation with you and show you how to take the five basic photos you will need. For more information on preparing for your procedure, we have an informative Plastic Surgery Patient Care Page and Wound Care and Scar Prevention Page. If you are having a procedure, it is important to stay off blood thinners and the listed medications to avoid for two weeks before and two weeks after the planned date of your procedure.
Facial Fat Injections Learning Videos by Dr. Young
Click here for more Fat Transfer Learning Videos
 Click here to visit our Videos by Dr. Young
 Click here to visit Dr. Philip Young's Youtube Page
* To reduce the risk of bruising, you will be advised to stop taking fish oil, Vitamin E, herbal medications, supplements, aspirin and anti-inflammatories 1-2 weeks prior to treatment, if possible. Inform Dr. Young of all of your prescriptions, over-the-counter remedies and herbal supplements, oral or topical products, and if you may be pregnant.
Please consult our Patient Care section for more helpful information. You can also read about our privacy policy on the resource page as well.