LASER RESURFACING - SKIN RESURFACING
By Los Angeles Beverly Hills Trained, Author of a New Theory on Beauty Dr. Philip Young & Published Clinical Researcher & Worthington B. Shenck Awarded Dr. Rikesh Parikh. Learn About Dr. Young's New Theory on Beauty which gives our team and incredible advantage.
Have Your Friends Tell You How Great Your Skin Looks. Reduce wrinkles, sun spots and get a little lift. Laser resurfacing can achieve these results.
Dr. Philip Young is a Double board certified facial plastic surgeon and is board certified by the American Board of Laser Surgery.  He has been performing co2 laser resurfacing and laser treatments for over 12 years. He is also anaward winning published author of multiple chapters in major textbooks in Plastic Surgery and multiple peer reviewed articles (see more on Dr. Young's Research). Learn more about the Top Ten Reasons to choose Dr. Philip Young). From there, you will learn why people travel from all over the world to see Dr. Young including more information about  Dr. Young's groundbreaking Theory on Facial Beauty called the Circles of Prominence.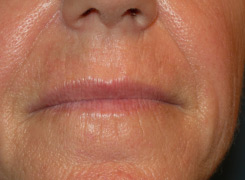 Laser Resurfacing Before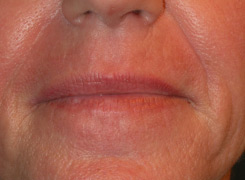 Laser Resurfacing After
Laser Resurfacing Topic Link
Here is a link to our testimonials: Aesthetic Facial Plastic Surgery Testimonials
Do you want to eliminate wrinkles, improve skin laxity, decrease sun damage, smooth surface irregularities and decrease age spots in a single treatment? You can improve all of these elements with Active FX, Deep FX, and Total FX (a CO 2 laser by Lumenis) by Dr. Young, the renowned Bellevue / Seattle laser skin resurfacing specialist. Read more about CO2 laser resurfacing through our links below. Active FX concentrates on superficial wrinkles and unwanted pigmentation. DeepFX, in particular, targets the deep dermal layers of the skin, and provides exceptional results on deep wrinkles, scars, and lip lines. Total FX combines both Active FX and Deep FX for maximum results. CO 2 laser resurfacing penetrates into the dermis and stimulates collagen production and additional improvement can continue for months after the treatment. With proper care to avoid the harmful effects of sunlight, the improvement can last for years. Note: for your procedure we will likely want you to start some topical medications that you will start 2-4 weeks before your co2 laser procedure. These same topicals should be stopped 7 days before your procedure to allow your skin to recuperate. Make sure to read all the links to the right to prepare for your procedure. You can learn more about Laser Resurfacing with these links below:
See more Laser Resurfacing Before and Afters
Learn more by watching our Laser Resurfacing Learning Videos
To better prepare for the laser resurfacing procedure we would like you to read all of the links to the right. We will also likely have you start prepping your skin for the co2 laser resurfacing procedure and would like you to read our Scientific Skin Care Regimen.  On this page are some more specifics related to the co2 laser procedure.  Please let us know if you have any questions!
Procedure Photos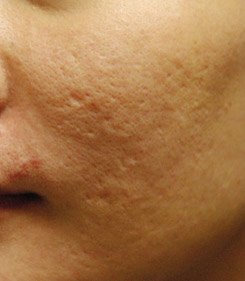 Before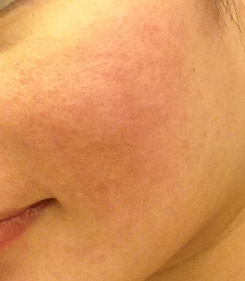 After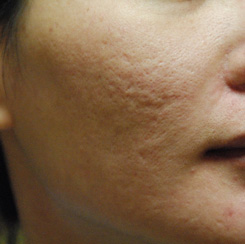 Before Acne Scar Vitalizer Treatment Cheek Pock Mark Scars Right Side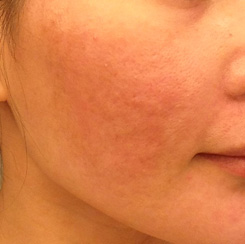 After Acne Scar Vitalizer Treatment Cheek Pock Mark Scars Right Side
For the Above Pictures: "Dr. Young. Look at this big difference. And want to say :thank you very much!"  Feb 2014
Click here for more Laser Resurfacing Before and After Photos
If you are interested in scheduling an appointment you can email, call  425-990-3223 (Office) and even text message 425-505-0938 (Mobile) us at anytime. Click here if you would like to find out more about our consultation process. If you live out of town, we can schedule a phone consultation with you and show you how to take the five basic photos you will need. For more information on preparing for your procedure, we have an informative Plastic Surgery Patient Care Page and Wound Care and Scar Prevention Page. If you are having a procedure, it is important to stay off blood thinners and the listed medications to avoid for two weeks before and two weeks after the planned date of your procedure.
Videos by Dr. Young
Below is a video on Laser Resurfacing covering topics like Active, Deep, Max, Total FX, Traditional resurfacing, Fractional resurfacing, spot size, examples of different densities for the laser, etc:
Below is a video on Laser Resurfacing and the after care specifically on the cleaning of the skin after skin laser co2 resurfacing:
 Click here for more Laser Resurfacing Learning Videos
 Click here to visit our Videos by Dr. Young
 Click here to visit Dr. Philip Young's Youtube Page
* To reduce the risk of bruising, you will be advised to stop taking fish oil, Vitamin E, herbal medications, supplements, aspirin and anti-inflammatories 1-2 weeks prior to treatment, if possible. Inform Dr. Young of all of your prescriptions, over-the-counter remedies and herbal supplements, oral or topical products, and if you may be pregnant.
Please consult our Patient Care section for more helpful information. You can also read about our privacy policy on the resource page as well.