MICRODERMABRASION BEFORE & AFTER PHOTOS
Learn Why People All Over the World have Come for Dr. Philip Young's Procedures. Discover our Theory on Beauty that gives our team an incredible advantage.
Microdermabrasion is a procedure where an abrasive instrument is used to take away the very superficial layers of the skin. The process promotes a higher rate of skin turnover. Over time this can improve the appearance of your skin. Some use this procedure to improve scarring in a very subtle manner. For more aggressive approaches we would suggest looking at these links: Scar Revision by Aesthetic Facial Body Plastic Surgery, Acne Scar Vitalizer Treatment - The New & Unique Approach to Acne Scarring.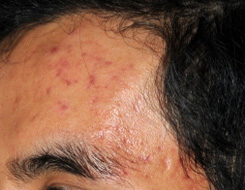 Before Acne Skin Care Regimen of the Forehead | Temple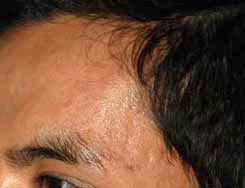 After Acne Skin Care Regimen of the Forehead | Temple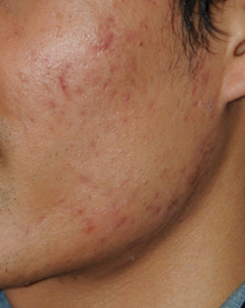 Before Acne Skin Care Regimen of the Cheeks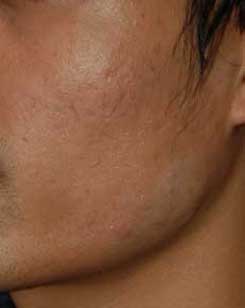 After Acne Skin Care Regimen of the Cheeks
Performed by Dr. Philip Young
---
Advanced Skin Care Regime:
Microdermabrasion can be combined with our Advanced Skin Care Regime. We have a process that can improve your skin turnover and leave you with better skin. The average healthy adult has a skin turnover of about 28 day from basal cell to sloughed off kertinocytes. When you get older the skin takes even longer and can take 40-60 days. What happens is that your skin starts to look less smooth and more dull. We can speed up your skin turnover down to less than 15 days which can get your skin looking the best it can. Sundays: We start you with your own peels at home on sunday. Wednesdays: Then on wednesday we will have you put on a vitamin A analog on your skin (like Retin A, Adapalene, Tretinoin). Fridays: can then be a day you add on another product (glycolics, skin lighteners etc). All of these products can be increased by the number of times per week, how much you put on, and how often you put it on. The peels can be placed on your skin for longer durations and more times per week. The Vitamin A analog can be placed more times during the week as tolerated. Importantly, the Vitamin A analogue is put on at night. Also after the peel you should not put on anything. You can contact us if you would like to start on this Advanced Skin Care Regime. You can contact us here: email contactu(at)afbplasticsurgery.com, call 425-990-3223, or text 425-505-0938.