FACIAL FILLER | INJECTIBLE TESTIMONIALS | REVIEWS
Facial Filler | Injectible | Restylane | Radiesse | Juvederm | Perlane Testimonials  | Reviews of Bellevue | Seattle's Dr. Philip Young | Aesthetic Facial Plastic Surgery
1.
Before Restylane Blepharoplasty | Injections to Lift the Lower Eyelids and for Cheek Augmentation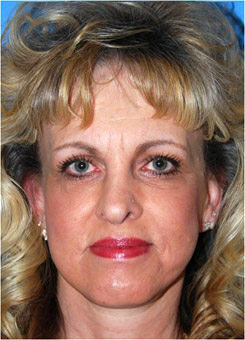 After Restylane Blepharoplasty | Injections to Lift the Lower Eyelids and for Cheek Augmentation
"When I wake up, I don't look sick or 60 anymore. And I don't need to wear as much make up! Thank you, Dr. Young."
2.
This is a testimonial that was given to us via email on 8/23/13
"Hello, this is _______. I was just in on tues for  a nose filler. I love it!!! Thank you to Dr. Young he was very nice and helpful with what I wanted. The girls at the front were helpful and nice. I have already referred my friends to his office. And I will def return in the future. Thanks again everyone!!!!"
3.
Here is a recent Filler testimonial we received on 12/28/10:
"When I googled best lip injections for lips, Dr. Young's name came up . I looked at all his pics and decided that they were the best lips I have seen, even on all the stars. Last week I had my injections and I have to say that Dr. Young shows expertise and mastery as a doctor and as an artist!! My lips look very natural and very pretty. I am so Happy,Thank You Dr. Young!!!!!! Happy New Year 2011 Best Regards
Lisa."
4.
This is a review that was posted on our google review page:
Donna Yirka reviewed a month ago
Quality Excellent
I came to the office for a consultation on under eye dark circles, while talking to Dr Young he noticed that I had a bad burn on my hand. Dr Young immediately notified a nurse to assist me on cleaning and care of this wound,. Needless to say I went back and had the injections under my eyes. Went back to work and all the gals, including my negative sister, said I looked 10 years younger. Since that service I purchased the Laser package and got a free service. The girls even gave me another free service for having to change my appointment. I HAVE NEVER HAD A DOCTOR DO THAT!!! I have had a chin implant 25 years ago which still looks great so I am definitely going to continue with Dr Young and his office in considering some other procedures. Don't be afraid or feel you don't deserve to take care of your face. You do and Dr Young's office will take good care of you.
5.
Before I looked like I was really tired and didn't have a good night sleep. Now I look refreshed and more youthful. I'm thrilled with the results.
- DB