JAW SILICONE LATERAL IMPLANTS of SEATTLE BELLEVUE
Learn Why a Professional Sports Team Coach, Grammy Nominee, Seattle & New York Broadway Lead Actresses, Executives of Fortune 500 Companies, & The Owner of the Northwest Women's Show have Chosen Seattle's Jaw Implant Expert Dr. Philip Young and Our Team.
First watch this Introductory Video on Facial Implants. Learn how Dr. Young's Award Winning Theory on Beauty helps us get the best results!
Feel a renewed confidence in yourself by enhancing your jawline. Jaw implants can be the answer to making your face more beautifully balanced.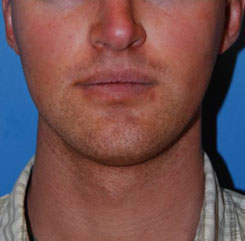 Before Jaw Reshaping with a Lateral Jaw | Facial Silicone Implant for a Wider | Stronger | More Masculine Looking Jaw | Face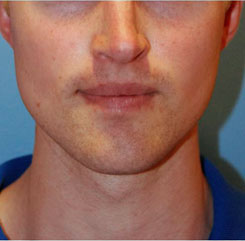 After Jaw Reshaping with a Lateral Jaw | Facial Silicone Implant for a Wider | Stronger | More Masculine Looking Jaw | Face
Jaw Implants Topic Link
Our Featured Jaw Implant Testimonial:
"I've been thinking about getting jaw implants for years. I think its brought a better balance to my face. My confidence is a lot better. I feel great. My procedure went perfect." — AJ 20's White Male from Everett, Washington.
Click here to see our Jaw Augmentation Blog
Here is a link to our testimonials: Aesthetic Facial Plastic Surgery Testimonials
Dr. Young Discusses Jaw Implants / Jaw Augmentation and how the procedure is done and what it can do for you in this Longer Version Video On Jaw Augmentation below:
More on Bellevue Seattle's Silicone Jaw Implants:
Published author and Double board certified Dr. Philip Young has extensive experience in facial implants having spent 5 years in Los Angeles at the University of Southern California training with some of the best facial plastic surgeons in the world as well as more than 12 years of experience in this area of expertise. Learn more about this in our Top Ten Reasons to choose Dr. Philip Young. His innovative understanding on Facial Beauty attracts people to come see him from all over the world because it gives him and his staff that something special to get the best results. We bring the most advanced knowledge and reliable methods in getting you the best results available through Jaw Implants.
The Lower Third of your Face is dominated by the presence of your lower jaw. Depending on its structure, the jaws can make a tremendous impact on your appearance by giving you wider jaws and | or better facial balance. Reshaping your jaw through facial implants to your lateral jaw or by reduction can make that positive impact. With Dr Young's exciting new understanding on how people assess beauty within the face (Circles of Prominence theory), he can transform your face into the most ideal shape that it can be. Click here to learn more about Dr. Young's Theory on Facial Beauty Your life has the possibility of making a major change for the better through Jaw Augmentation in Dr. Young's Seattle / Bellevue office.
Here are some helpful links regarding Lateral Silicone Jaw Implants:
To learn more about Jaw Augmentation / Jaw Shaping and Cosmetic Jaw implants you can click the following links below:
Jaw Implant Before & After Images: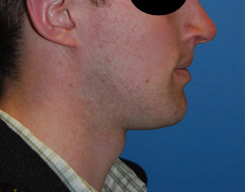 Before Lateral Silicone Jaw Implants Lateral View for Wide Musculine Jaws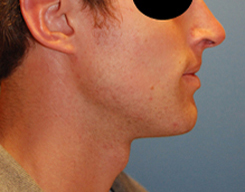 After Lateral Silicone Jaw Implants Lateral View for Wide Musculine Jaws Note the Better Angularity Created
 Click here to see more Jaw Implants Before and After Photos
If you are interested in scheduling an appointment you can email, call  425-990-3223 (Office) and even text message 425-505-0938 (Mobile) us at anytime. Click here if you would like to find out more about our consultation process. If you live out of town, we can schedule a phone consultation with you and show you how to take the five basic photos you will need. For more information on preparing for your procedure, we have an informative Plastic Surgery Patient Care Page and Wound Care and Scar Prevention Page. If you are having a procedure, it is important to stay off blood thinners and the listed medications to avoid for two weeks before and two weeks after the planned date of your procedure.
Learning Videos on Lateral Silicone Jaw Implants by Dr. Young
 Click here to see more Jaw Implants Learning Videos
 Click here to visit our Videos by Dr. Young
 Click here to visit Dr. Philip Young's Youtube Page
* To reduce the risk of bruising, you will be advised to stop taking fish oil, Vitamin E, herbal medications, supplements, aspirin and anti-inflammatories 1-2 weeks prior to treatment, if possible. Inform Dr. Young of all of your prescriptions, over-the-counter remedies and herbal supplements, oral or topical products, and if you may be pregnant.
Please consult our Patient Care section for more helpful information. You can also read about our privacy policy on the resource page as well.