RHINOPLASTY | NOSE PLASTIC SURGERY SPECIALIST
By USC LA Beverly Hills Trained, Published Author the Circles of Prominence & a New Theory on Facial Beauty, Medical Mission Contributor & Facial Plastic Surgeon Dr. Philip Young & Vanderbilt Trained, Published Clinical Researcher & Plastic Reconstructive Surgeon Dr. Rikesh Parikh.
Have the look you've always wanted and feel like new. Change your look dramatically with Rhinoplasty.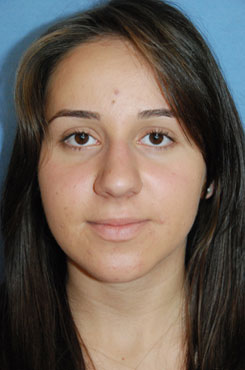 Before Rhinoplasty for Nasal Dorsal Hump | Prominence with Nasal Tip Projection | Refinement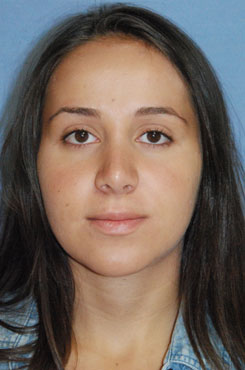 After Rhinoplasty for Nasal Dorsal Hump | Prominence with Nasal Tip Projection | Refinement
Rhinoplasty Topic Link
Below is an introduction video to our Rhinoplasty Procedure:
Here is a link to a page for this Rhinoplasty Introduction Video with Closed Captioning for the hearing impaired.
Our Featured Rhinoplasty Nose Plastic Surgery Testimonial:
"Dr. Young, I just wanted to tell you that this procedure was the best thing I ever done. Before this, I didn't want to go outside. I just felt everybody looked at me. I feel so much better about myself. I can actually go out and do things that other people do and not feel self conscious about the way I look. Thank you for giving a big part of my life back."
- 40's Caucasian Male, USA after his
Rhinophyma Corrective Procedure
.
Here is a link to our testimonials: Aesthetic Facial Plastic Surgery Testimonials. Also Learn why People from all over the world have chosen Dr. Philip Young including Patients from Syria, Lebanon, Germany, Dubai, China, Korea, Japan, Australia, England, Canada, the Netherlands and Singapore by clicking here: Top Ten Reasons to Choose Aesthetic Facial Body Plastic Surgery.
Feel the Benefits of Beauty:
You don't have to hide behind your nose or feel self conscious about your appearance. You can have these same positive changes as these people who have had our Rhinoplasty Procedure. More people these days are benefiting from subtle changes in their looks. A rhinoplasty can make these small to more signficant changes that can make a major impact to your looks. As more research is being done, the benefits of beauty are becoming more obvious. From how your parents treat you and getting better grades to making the difference in becoming a world leader in the political realm, there are many benefits of beauty that are often overlooked. Since your nose is in the center of your face, changing your nose can be the one thing that can dramatically change your looks and beauty for the better. Dr Philip Young who discovered an Award Winning Theory on Beauty knows the impact of Beauty very well. According to Dr. Young, our appreciation for beauty is related to our desire for good things to happen in our lives. It's all based on order. We like order in our lives and we like things to be ordered in the face. In a word, Beauty is order in the face. You can learn more about his theory by clicking here: Dr. Young's Theory on Beauty.
More on Rhinoplasty:
Rhinoplasty is the most complicated procedure for a Facial Plastic Surgeon. That is why we spend so much time with our patients when discussing Rhinoplasty. We want the best results for You. That is why we will go over Your Rhinoplasty Procedure through at least 3 meetings: 1.) Your initial consultation; 2.) Your Pre Procedure Appt; 3.) On the day of your procedure when we will spend at least 1/2 to an hour going over the details of your Rhinoplasty. Most of the time will be spent with our Computer Morphing Program. We will morph your pictures to get a sense of what you want. This is vitally important. In order to get You the best results, we need to understand all of your desires, preferences, and ultimately the appearance of your ideal nose. Although the morphed picture is the perfect result and Rhinoplasty is not a magical thing, we will do everything we can to get your results as close to the morphed picture as humanly possible.  Although computer morphing is important, sometimes the morphing can be difficult, especially if your nose is significantly different from what you want in your ideal, desired nose. Hence, bringing in pictures of people whose noses you like can also help us get the best results for you. Importantly, our team here at Aesthetic Facial Plastic Surgery believes in quality and not quantity. We want the best results for you and we like to take our time during your Rhinoplasty procedure. Instead of doing 2-4 rhinoplasties in one day, we concentrate on 1 and rarely 2 in a day. This allows us to spend more time getting You the best results.
Award-winning, Double board certified and published author Dr. Philip Young is a rhinoplasty | rhinoplasty revision expert and has over 12 years of experience in this highly specialized area of medicine. He has published multiple chapters in major textbooks in Facial Plastic Surgery and multiple peer reviewed scientific journal articles (Click here to See Dr. Young's Research). Click here to find out about his article on the Management of the Crooked Nose Deformity.  Also find out why people from all around the world travel to see Seattle Rhinoplasty Expert Dr. Young here: Top Ten Reasons to choose Dr. Philip Young.
Click here to Learn More about Rhinoplasty. You can also scroll down to see our many topics on Rhinoplasty:
The open versus closed approach to Rhinoplasty:
Below you will see the nose from a worm's eye view. What you're seeing is where the location of the incision is done for an open procedure usually a wavy line incision or an inverted gullwing incision is used. This is a picture of the before and after image of the incision and how it has healed. Why do people use the open approach versus a closed approach? The open approach allows the rhinoplasty surgeon to see the structures better and have an actual view of what the structures are looking like under the skin. This gives the rhinoplasty surgeon an incredible view of the structures and knowing what effects are being done to the nasal anatomy. In the closed approach this incision is not made and the incisions are located inside the nose and nostrils hidden from view. The closed approach is favored by some because this incision is not made on the outside. However, the closed approach limits your view on how the structures are actually looking like. There are a lot of limitations with a closed approach and there are things that are much harder to do with that incision not being made as in the open approach.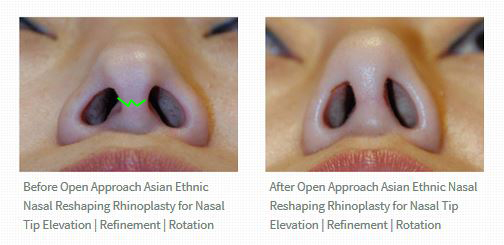 Approximately 30% of Dr Young's practice is devoted to Rhinoplasty:
We specialize in the face and neck only. Rhinoplasty is one of our main procedures that we do. In fact, we do almost just as many revisions as we do 1st time rhinoplasties. Revision rhinoplasties are among the hardest things that a plastic surgeon can do and we have a lot of experience with this situation. You can click here to learn more about Revision Rhinoplasty.
Below are some Helpful Links on Rhinoplasty:
If you would like to start out with a live video consultation on rhinoplasty click here (Rhinoplasty Consultation)
Below are some topics for you to learn more about your  rhinoplasty. We are constantly updating our website. So some of the topics are in process. So stay tuned. We have other topics to the right as well:
Rhinoplasty Learn More about the Basics
Rhinoplasty Procedural Steps
Rhinoplasty Risks and Benefits
Rhinoplasty Specific Treatments
Rhinoplasty Videos
Rhinoplasty Before and After Images
Rhinoplasty From Consultation to Beautiful Results
Rhinoplasty Functional Surgery
Rhinoplasty Specific Treatments
More on Rhinoplasty and Nose Plastic Surgery:
Please peruse the paragraphs below to learn more about rhinoplasty at Dr. Young's Seattle / Bellevue office. You can also Learn More about Rhinoplasty and the details on the procedure with this link. You can find live demonstration videos and more discussions on this topic through this link: Facial Plastic Surgery Videos.
The nose is the most prominent feature on a person's face, so it is not surprising that rhinoplasty is one of the most frequently performed cosmetic procedures for people of all ages. Disproportion in the size and shape of the nose can do much to distract from an otherwise attractive face. Your desires and facial structure are important criteria in deciding how your new nose should look. As a foremost Bellevue / Seattle rhinoplasty surgeon, Dr. Young has performed over 3,000 cosmetic and reconstructive procedures including nose reshaping to provide balance and symmetry to his patients, and has trained with some of the most prominent plastic surgeons in the country. More importantly, because of his internationally acclaimed understanding of Facial Aesthetics (you can read about Dr. Young's Theory on Facial Beauty by clicking this link), he will have a very unique perspective on how nose reshaping can enhance your natural beauty and bring your nose into an ideal relationship with the rest of your face.
Incisions hidden at the nostril base and/or inside the nose allow access to reshape underlying cartilage and/or bone. This may include lowering humps, narrowing of nasal bones, shaping of the nasal tip or nostril size and improving the angle between the nose and the upper lip. This procedure also can correct breathing difficulties caused by structural irregularities.
More Links on Rhinoplasty Specific Topics:
Here are some specific topics that you might be more interested in learning about. If there are any questions that you would like more clarification on our website you can contact us with this link: Facial Plastic Surgery Contact Page:
Rhinoplasty Before & After Images: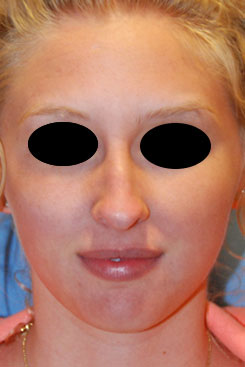 Before Rhinoplasty and Nasal Tip Shaping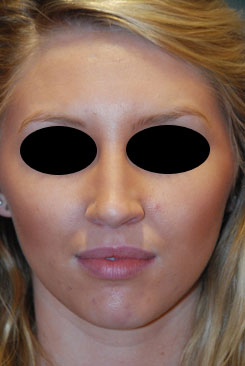 After Rhinoplasty and Nasal Tip Shaping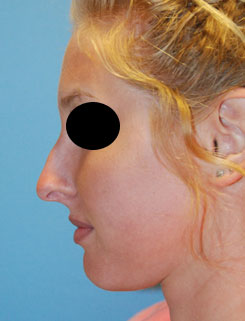 Before Rhinoplasty and Nasal Tip Shaping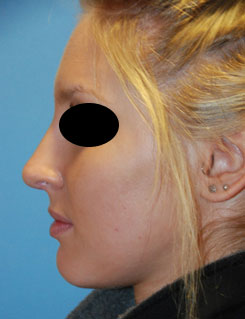 After Rhinoplasty and Nasal Tip Shaping
Click here for more Rhinoplasty Before & After Photos
If you are interested in scheduling an appointment you can email, call  425-990-3223 (Office) and even text message 425-505-0938 (Mobile) us at anytime. Click here if you would like to find out more about our consultation process. If you live out of town, we can schedule a phone consultation with you and show you how to take the five basic photos you will need. For more information on preparing for your procedure, we have an informative Plastic Surgery Patient Care Page and Wound Care and Scar Prevention Page. If you are having a procedure, it is important to stay off blood thinners and the listed medications to avoid for two weeks before and two weeks after the planned date of your procedure.
Learning Videos on Rhinoplasty:
Below is a video on a Revision Rhinoplasty to replace a Goretex Tip that was too pointy and a Silicone Bridge that was unnatural looking and too narrow:
 Click here for more Rhinoplasty Learning Videos
 Click here to visit our Videos by Dr. Young
 Click here to visit Dr. Philip Young's Youtube Page
* To reduce the risk of bruising, you will be advised to stop taking fish oil, Vitamin E, herbal medications, supplements, aspirin and anti-inflammatories 1-2 weeks prior to treatment, if possible. Inform Dr. Young of all of your prescriptions, over-the-counter remedies and herbal supplements, oral or topical products, and if you may be pregnant.
Please consult our Patient Care section for more helpful information. You can also read about our privacy policy on the resource page as well.