SCAR REVISION | TREATMENT
By Award Winning Founder of a New Theory on Beauty, Beverly Hills Trained & Facial Plastic Surgeon Dr. Philip Young MD & Prestigious Vanderbilt Trained Dr. Rikesh Parikh MD. Discover Dr. Young's Theory on Facial Beauty that gives our Team an incredible advantage.
You don't have to feel like people are always looking at your scars. You can do something about your scars today through Scar Revision.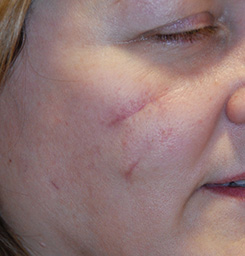 Before Geometric Line Closure Excision Scar Revision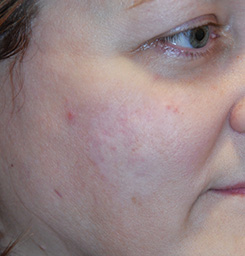 After Geometric Line Closure Excision Scar Revision and Before Laser Resurfacing and Dermasanding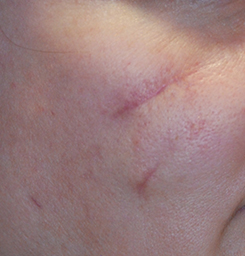 Before scar treatment from dog bite with CO2 laser resurfacing and dermabrasion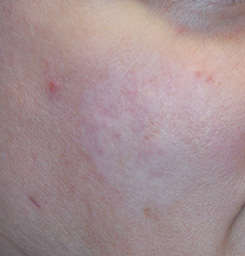 After scar treatment from dog bite with CO2 laser resurfacing and dermabrasion. Note: she has slight lightening of the skin. This was the patient's choice to confine the area to just around the scars. Notice how the scars look completely resolved
Our Featured Scar Revision Testimonial:
"Dear Dr. Young, So far, I can only say that I wish I had met you 10 years ago when I first had this accident. I have lost so much and you are slowly restoring that confidence and ease I had abour life. The scars are not perfect, but they are so much better than they have ever been and I want to say thank you." —A.C. 30's African American Female From Caribbeans.
Here is a link to our testimonials: Aesthetic Facial Plastic Surgery Testimonials
More on Scar Revision Treatment:
Award-winning, published author and facial plastic surgeon Dr. Philip Young has more than 12 years of experience in scar revision.  He has extensive experience in the reconstruction | scar treatment for the head and neck area. His reconstructive background are found in his 4 year experience at a level 1 trauma center at Charity Hospital in New Orleans during Medical School; his 5 year experience in a level 1 trauma center in Los Angeles County Hospital with the University of Southern California; his 1 year experience in a level 2 trauma center atSanta Rosa Medical Center, and his Fellowship training with Dr. Frederick Stucker in Facial Plastic and Reconstructive Surgery at Louisiana State University. Read more about Dr. Young and his Team here: Top Ten Reasons to choose Dr. Philip Young.
Dr. Philip Young has become renowned as a leading Scar Revision | Scar Treatment surgeon. Although no scar can be removed completely, Dr. Young can improve the appearance of a scar, making it less obvious through either cO2 laser, Dermabrasion, Dermasanding, Excisions, Fat Grafting, Fillers, Intense Pulse Light, Steroid Medications, Tissue Rearrangement treatments or through other procedures. Find out why people from around the world including the Canada, China, Italy, Netherlands and Singapore are coming to have Our Team and Dr. Philip Young improve their scars.
Below are some links to learn more about the different approaches to Scar Treatment:
Here are some specific scar reduction | scar removal topics for you to learn more. Click each thumbnail to take you to the specific topic!
Burns or other injuries resulting in the loss of a large area of skin may form a scar that pulls the edges of the skin together through a process called "contraction". The resulting contracture may affect the adjacent muscles and tendons, restricting normal movement. Some scars can be softened by dermabrasion, a controlled scraping of the top layers of the skin, leaving a smoother surface.
Grafting involves the transfer of skin from a healthy part of the body (the donor site) to cover the injured area. The graft is said to take when new blood vessels form and allow the graft to survive. A procedure utilizing flaps is a complex technique in which skin, along with the underlying fat, blood vessels, and sometimes the muscle, is moved from a healthy part of the body to the injured site. Skin grafting and flap procedures can greatly improve the function of a scarred area.
Procedure Photos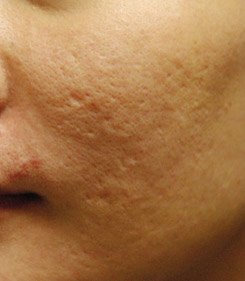 Before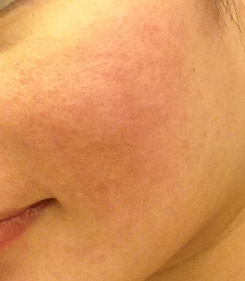 After
 Click here for more Scar Revision Treament Before & After Photos
If you are interested in scheduling an appointment you can email, call  425-990-3223 (Office) and even text message 425-505-0938 (Mobile) us at anytime. Click here if you would like to find out more about our consultation process. If you live out of town, we can schedule a phone consultation with you and show you how to take the five basic photos you will need. For more information on preparing for your procedure, we have an informative Plastic Surgery Patient Care Page and Wound Care and Scar Prevention Page. If you are having a procedure, it is important to stay off blood thinners and the listed medications to avoid for two weeks before and two weeks after the planned date of your procedure.
Videos by Dr. Young
 Click here for more Scar Revision Treatment Learning Videos
 Click here to visit our Videos by Dr. Young
 Click here to visit Dr. Philip Young's Youtube Page
* To reduce the risk of bruising, you will be advised to stop taking fish oil, Vitamin E, herbal medications, supplements, aspirin and anti-inflammatories 1-2 weeks prior to treatment, if possible. Inform Dr. Young of all of your prescriptions, over-the-counter remedies and herbal supplements, oral or topical products, and if you may be pregnant.
Please consult our Patient Care section for more helpful information. You can also read about our privacy policy on the resource page as well.