SKINCARE | INTENSE PULSE LIGHT
By USC Los Angeles Trained, Founder of a New Theory on Beauty Dr. Philip Young MD & State University of New York & Vanderbilt Trained Dr. Rikesh Parikh MD. Discover Dr. Young's Theory on Beauty that give our Team an incredible advantage.
Have your friends remark on how great your skin looks. Try our scientific approach to skin care.
Watch Dr. Young perform a chemical peel on himself while talking about skin care rejuvenation and acne treatments to remove the worst pimples, zits,etc:
Below is a Before and After of our Skin Care Program for Acne Scarring and acne that has been used with Microderm as an adjunctive procedure. Most the results are from the skin care program. We did carry out some deep lasering for the more deeper scars but did not do a full laser resurfacing: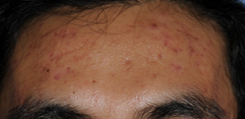 Before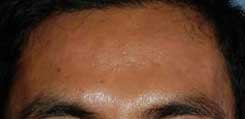 After
Skincare Intense Pulse Light Topic Link
Click here to see our Skin Care Blog
Here is a link to our testimonials: Aesthetic Facial Plastic Surgery Testimonials
Come learn more about award-winning published author and facial plastic surgeon Dr. Philip Young here at our Top Ten Reasons to choose Dr. Philip Young. Find out why people from all around the world travel to see skin care expert | intense pulse light expert Dr. Young including Italy, Germany, Australia, England, China, Korea, Japan, and the Netherlands, not to mention people all over the United States and Canada.
Come and experience our skin care services with our Licensed Medical Aesthetician and learn about our Scientific Skin Care Regimen. We are proud to offer Vivite skin care products by Allergan. We also carry Skin Medica which is sold only in Doctor's offices. Through Skin Medica, we offer a complete skin care line. Find out more about our Aesthetic Skin Care Products. Come and get pampered by our Aesthetician who can offer an array of treatments such as: microdermabrasion, Jessner and TCA peels, advice on skin care, Woods lamp evaluations and Intense Pulse Light Treatments (IPL). We have the Lumenis One IPL system which is the best in the market and the most versatile. This IPL can treat melasma, hyperpigmentation, rosacea, telangiectasias, sun spots, red spots, spider veins on legs and more!
Unlike other Medical Spas, all of our treatments are directly supervised by Dr Young! We go the extra mile to make sure that we adhere to the strictest of standards, thus assuring that your experience with us is safe and beneficial. Our microderm instruments are steam autoclaved to insure sterilization of our instruments which is above and beyond what you might experience in other spas. Your safety is extremely important to us! Our goal is to provide you with the very best treatments by bringing techniques to you from around the world. We are constantly updating our understanding and keeping up with the most current medical literature to help serve you better.
This is our current beginners skin care regime instructions (Click here to learn more about our Scientific Skin Care Regime:
In terms of the at home glycolic peels you only want to start that on Sunday night once a week. Basically put it on and take it off immediately when you first start using at home chemical peels. You can then increase it by the number of times of week and how long you keep it on your skin. Just be careful not to burn yourself and cause scarring. If in doubt, just put it on and take it off immediately. Don't put any skin products on after the chemical peel. Start these peels first and then add on Retin A and then the Glycolic Cream 10% respectively & slowly as tolerated. Here is a video on doing the At Home Chemical Peels.
Start the Retin A on Wednesday night and only do that once a week as well. You can increase that as tolerated and for each of the products you never want to put it on if you are ever red or irritated. Retin A can make you sensitive to sunlight so it should only be applied during the nighttime.
For the Glycolic Cream 10% or the Rebrightalyzer Kit, do this once a week for starters and do it on fridays. You can increase that as tolerated but you never want to put it on if you are ever red or irritated.
Click on the link(s) below to learn more about Our Skin Care Program and Intense Pulse Light:
Procedure Photos
See our photo healing diary to see how your skin changes from before and after treatment with Intense Pulse Light by clicking here: Intense Pulse Light Healing Diary Before and After
 Click here for more Skin Care and Intense Pulse Light Before and After Photos
If you are interested in scheduling an appointment you can email, call  425-990-3223 (Office) and even text message 425-505-0938 (Mobile) us at anytime. Click here if you would like to find out more about our consultation process. If you live out of town, we can schedule a phone consultation with you and show you how to take the five basic photos you will need. For more information on preparing for your procedure, we have an informative Plastic Surgery Patient Care Page and Wound Care and Scar Prevention Page. If you are having a procedure, it is important to stay off blood thinners and the listed medications to avoid for two weeks before and two weeks after the planned date of your procedure.
Dr. Young Videos
 Click here for more Skin Care and Intense Pulse Light Learning Videos
 Click here to visit our Videos by Dr. Young
 Click here to visit Dr. Philip Young's Youtube Page
* To reduce the risk of bruising, you will be advised to stop taking fish oil, Vitamin E, herbal medications, supplements, aspirin and anti-inflammatories 1-2 weeks prior to treatment, if possible. Inform Dr. Young of all of your prescriptions, over-the-counter remedies and herbal supplements, oral or topical products, and if you may be pregnant.
Please consult our Patient Care section for more helpful information. You can also read about our privacy policy on the resource page as well.