SEATTLE BELLEVUE ACNE SCAR TREATMENT
By Beverly Hills Trained, Award Winning, & Bellevue Seattle Acne Scar Treatment Specialist & Surgeon Dr. Philip Young and Prestigious Vanderbilt Trained Dr. Rikesh Parikh. We took over 15 years to develop our 5-7 Step process that treats all types of Acne Scars and is done in about 2 hours. Learn More Below About the Acne Scar Vitalizer Treatment:
Change those scars that you've had for so many years and feel better about yourself. We have an innovative technique called the Acne Scar Vitalizer Treatment. Get real results.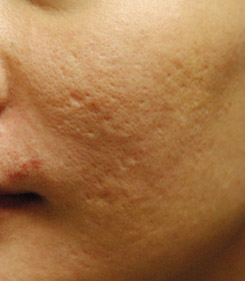 Before Acne Scar Vitalizer Treatment Cheek Box Car | Ice Pick Scars Left Side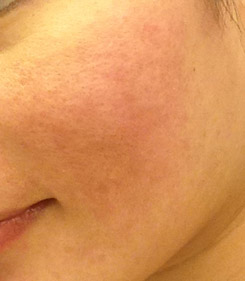 After Acne Scar Vitalizer Treatment Cheek Box Car | Ice Pick Scars Left Side
Above: Asian age 40's Female who had Acne Scarring for Years.
Acne Scar Treatment Topic Link
Our Featured Acne Scar Treatment Testimonial:
Featured Testimonial #1
"I was cared for incredibly well, as if I were family" - L.N. 40's Female from Bothell Washington
Featured Testimonial #2
"For years I suffered from having to deal with acne scars. I saw many doctors and non who came close to Dr. Philip Young. He truly is amazing and has hands that work magic. I'm so greatefull to have found him. He gave me my confidence back that I thought I would never get back. I can now look in the mirror and actually love what I see and not have to deal with pitted scars in my face. If you or anyone you know who thinks they have to just live with these scars, don't! Call Dr. Young and go see him now! He won't disappoint, I promise. I flew from Canada to Seatle just to get this treatment done and it was well worth it!" - Ator A. May 2016 Eastern Indian 20's something female with darker skin from Ontario Canada
Click here to see our Acne Scar Treatment Blog
Learn the Beauty Advantage:
Are you tired of feeling self conscious about your scars? Do you feel like people are staring at your scars more than listening to what you're saying. Just like some of these people, you can have these same results. Changing those scars that you've had for all of those years can possibly change your life for the better. As the discoverer of a New Theory on Facial Beauty, Dr Young knows the power of beauty. Some call it superficial or vain. On the contrary, Dr. Young thinks it could be one of the deepest things that people find important. As you might have seen many times before in your life, beauty gives certain people many advantages that are often overlooked. The question really is "why is Beauty so important to us?" According to Dr. Young, it all comes down to our appreciation for order. We want order in our lives because that's what make us happy. Beauty is order in the face. With Acne Scars, this order is highly disrupted. Thus, reducing your scars can bring some of this order back and with it possibly many of the benefits of beauty.
Award-Winning, Double Board Certified and Published Author Dr. Philip Young has over 12 years of experience treating Acne Scars and changing peoples lives. Find out why people from around the world come to see him and the other reasons that set Dr. Young and his Team apart (Follow this to find the Top Ten Reasons to choose Dr. Philip Young). However, more than anything what makes us unique is Dr. Young's groundbreaking Theory on Facial Beauty called the Circles of Prominence. Read more below to find out how our background is leading to innovative approaches to Treating Acne Scarring and Acne Scar Revision.
Below is a video on our Unique Approach to Acne Scarring called the Acne Scar Vitalizer Treatment:
Here is a link to our testimonials: Aesthetic Facial Plastic Surgery Testimonials
More on Acne Scar Treatment in Seattle Bellevue:
Dr. Young has a rewarding experience treating patients who have acne scarring as well as maintaining their acne to avoid further scarring. Scroll down for more of our before and afters. Click here to learn more about Dr. Young's approach to Acne Scar Treatment.
Treat all of your acne scars with one treatment that can be done in about 2 hours with the Acne Scar Vitalizer Treatment:
We have been continually improving our approach to acne scarring over the past 15 years. We do not believe that acne scarring can be treated with co2 resurfacing alone. Although some scars can be improved with co2 laser resurfacing, many siutation require more than this approach. In order to treat ice pick scars, boxcar scars, depressed scars, elevated scars, and pigmented or red scars, etc you need a multiple-step approach that treats acne scars from multiple levels and layers. We have a 5-7 step process that is all done in one treatment in about 2 hours that can attack all of those elements of acne scars. It incorporates using laser resurfacing, further resurfacing techniques, volumizing in the deeper layers with multiple approaches as well as individual treatment of each scar based on the particular qualities of that scar.
Why do we have to be concerned about acne involving all the layers of the skin?
Acne involves and is centered around the hair follicle. The picture below shows the hair follicle as it extends into multiple layers of the skin including the epidermis which is at the top and the dermis which is further below. Even further below the subcutaneous tissue is found as can be seen by the fat globules in the picture. Below the subcutaneous tissue is the location of the muscles. As you can see because the hair follicle extends so deeply, when the hair follicle gets plugged and then infected, it can involve all the layers of the skin. Treatment of the superficial layers of the epidermis and the most superficial layers of the dermis, leaves a lot of the acne scarring that is located deeper. The better approach that gets better results is treating all of these layers through the Acne Scar Vitalizer Treatment.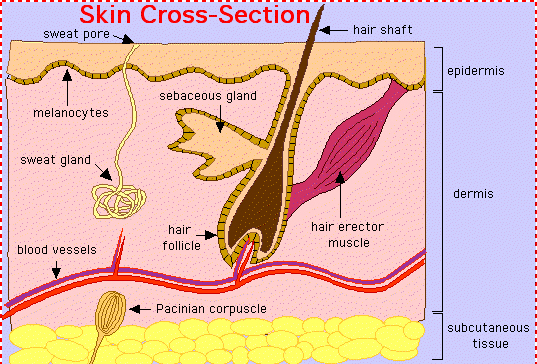 Learn More about Acne Scarring:
To learn more we would suggest first to read about the Acne Scar Vitalizer and to see this video: Acne Scar Vitalizer on YouTube. To prepare for the procedure find the Acne Care Package here on our Patient Care Page. Because co2 laser resurfacing is a big part of the treatment we would suggest following this link and reading all about co2 laser resurfacing. Also see our results here Acne Scar Treatment Before and After Images
For acne skin care prevention, Dr Young has a 4 step process which entails:
He employs an assortment of techniques for Acne Scar Treatment
.
Here is an excerpt from his ezine article on Acne Scar Treatment that can give you a different perspective. Here are the options for Acne Scar Treatment:
Here are some Helpful Links for Acne Scar Treatment:
With his CO2 laser resurfacing, Dr. Philip Young has a special technique that he terms "Graduated CO2 Laser Acne Resurfacing Treatment," which can target the depressed scars preferentially to allow them to elevate to the level of the rest of the skin. If you are having cO2 laser resurfacing as part of your treatment for your acne scarring, you need to read all the links on our cO2 laser resurfacing page prior to treatment.
Acne Scar Treatment Before and After Images:
The photos below are before and afters at post procedure month 2. She still has a little pink appearance to her skin that will improve in the next few weeks: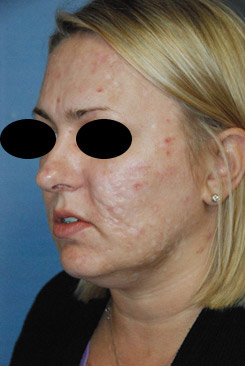 Before Acne Scar Vitalizer Treatment Left Oblique | Side View 1 Year Post Procedure | Surgery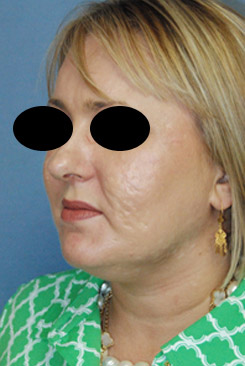 After Acne Scar Vitalizer Treatment Left Oblique | Side View 1 Year Post Procedure | Surgery
 Click here to see more Acne Scar Treatment Before & After Photos
If you are interested in scheduling an appointment you can email, call  425-990-3223 (Office) and even text message 425-505-0938 (Mobile) us at anytime. Click here if you would like to find out more about our consultation process. If you live out of town, we can schedule a phone consultation with you and show you how to take the five basic photos you will need. For more information on preparing for your procedure, we have an informative Plastic Surgery Patient Care Page and Wound Care and Scar Prevention Page. If you are having a procedure, it is important to stay off blood thinners and the listed medications to avoid for two weeks before and two weeks after the planned date of your procedure.
Acne Scar Treatment Learning Videos by Dr. Young
Award Winning Author of a New Theory on Beauty Dr. Philip Young Discusses Co2 laser resurfacing cleaning post after care:
 Click here to see more Acne Scar Treatment Learning Videos
 Click here to visit our Videos by Dr. Young
 Click here to visit Dr. Philip Young's Youtube Page
* To reduce the risk of bruising, you will be advised to stop taking fish oil, Vitamin E, herbal medications, supplements, aspirin and anti-inflammatories 1-2 weeks prior to treatment, if possible. Inform Dr. Young of all of your prescriptions, over-the-counter remedies and herbal supplements, oral or topical products, and if you may be pregnant.
Please consult our Patient Care section for more helpful information. You can also read about our privacy policy as well.