LASER RESURFACING CHEST | DECOLLETAGE
Laser Resurfacing Chest | Decolletage by Bellevue | Seattle's Dr. Philip Young of Aesthetic Facial Plastic Surgery
Laser resurfacing for the Chest and Decolletage (A women's upper torso) can be done to improve your sun spots, wrinkles in this area. This is a really common area of aging for women because this is a very exposed area where sun can hit and damage the skin. Co2 laser resurfacing is your answer to making this area look better. Laser resurfacing can tighten up the skin as well as remove unwanted pigmentation. It can even the skin tone, decrease wrinkling and make the area look better, younger and more refreshed. Below is a video showing Laser treatment of the Chest and Decolletage area.
Below is a before and after co2 laser resurfacing with Active and Deep Fx with one treatment. Notice the improvement of the crepe skin on the center of the chest and the more even skin pigmentation. Although the moles are still present. We did not elect to remove the moles which require different settings and is more invasive.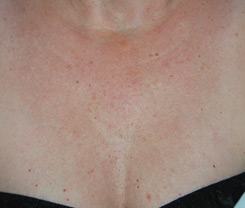 Before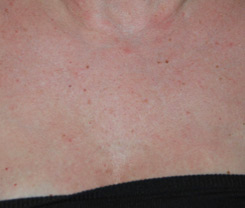 After
Note: Individual results will vary. Images do not constitute a promise or representation of any particular outcome or experience.
Some of the terms for laser resurfacing are hard to understand. The video below can help you understand fractional resurfacing and terms like Active, Deep, Total, and Max Fx. You will learn the differences between fractional resurfacing and traditional resurfacing: