Earlobe plastic surgery can repair earrings that were accidentally torn through the earlobe. Over time, heavy earrings can create an enlarged earring hole that can give you an undesirable appearance. The repair for this situation is essentially an excision of the hole and closure with re-piercing at three to six months.
There are other complicated ways of fixing the torn earlobe that can avoid piercing and leave you with an earring hole. Although you can avoid another piercing session,this method entails more intricate flaps of tissue and the results are not as consistent as some other approaches. Dr. Young believes that the removal of the torn portion of the earlobe with complete closure gives the best outcome. You have a stronger reconstruction and the earring hole will be smaller, tighter and last longer than more intricate methods. You can pierce your ear in 3-6 months after this primary reconstruction and simple closure.
There are different ways to camouflage the incisions with this procedure. One option is laser resurfacing with dermabrasion to help camouflage the incision even more.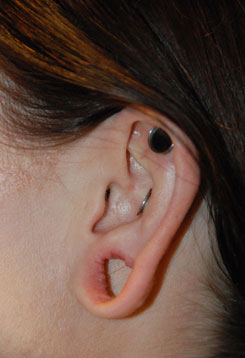 Before Otoplasty | Ear Reconstruction for previously Gauged | Stretched | Torn Earlobes
After Otoplasty | Ear Reconstruction for previously Gauged | Stretched | Torn Earlobes
Restructuring the incision would be another option but unlikely needed. These are some of the things that can be discussed with your doctor. The earliest you can laser the incision would be eight weeks when you can take advantage of the embryologic healing.
Note: Individual results will vary. Images do not constitute a promise or representation of any particular outcome or experience.
Watch Dr. Young's Gauged Earlobe Repair Live Surgery
"I just wanted to leave a note and say that my procedure with Dr. Young approximately 6 years ago took years off my face. He did an excellent job and I am still enjoying the results. It was very much worth the downtime. I look exactly like myself, just younger. Thanks, again!"

— C.J., 40's caucasian female from North Lynnwood, WA
"He gave me my confidence back that I thought I would never get back. I can now look in the mirror and actually love what I see and not have to deal with pitted scars in my face. If you or anyone you know who thinks they have to just live with these scars, don't!"

— Ator A., 20's Eastern Indian from Ontario, Canada
"My procedure went great and I left the office with no concerns and all of my questions answered. I have never felt so good about myself and my appearance. I have you to thank for that Dr. Young. My new nose is perfect, I cannot thank you enough for this new look on life."

— Nicole R., Fabulous Rhinoplasty