Jaw Augmentation With Silicone
Jaw augmentation uses silicone implants to create more volume and shape to the lower part of the face near the angle of the mandible. It can be done for either our male and female patients and give them a stronger appearance in the lower part of their face.
For men, this procedure can help accentuate their masculinity. For women, the surgery can provide a more balanced and beautiful face. Jaw augmentation beautifies the male and female face and maintains their sexual identity. Jaw augmentation can also change one's identity as well. For example, a woman might want a more masculine appearance. There is no doubt jaw augmentation can really make a significant impact in your life.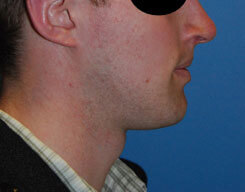 Before Lateral Silicone Jaw Implants Lateral View for Wide Musculine Jaws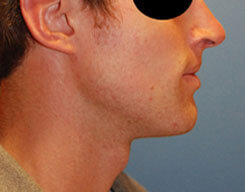 After Lateral Silicone Jaw Implants Lateral View for Wide Musculine Jaws Note the Better Angularity Created. These were 10mm Lateral Jaw Implants from Implantech
Note: Individual results will vary. Images do not constitute a promise or representation of any particular outcome or experience.
Dr. Young Bio
Dr. Philip Young has extensive experience in facial implants, including five years at the University of Southern California where he trained with some of the best facial plastic surgeons in the world. Overall, he has more than 12 years of experience in this area of expertise.
Dr. Young's innovative understanding on facial beauty attracts people from all over the world. With his Circles of Prominence theory, he understands how people assess beauty within the face and transform a face into its most ideal shape. Dr. Young and his staff bring the most advanced knowledge and reliable methods to get you the best results available in jaw implants.
"I just wanted to leave a note and say that my procedure with Dr. Young approximately 6 years ago took years off my face. He did an excellent job and I am still enjoying the results. It was very much worth the downtime. I look exactly like myself, just younger. Thanks, again!"

— C.J., 40's caucasian female from North Lynnwood, WA
"He gave me my confidence back that I thought I would never get back. I can now look in the mirror and actually love what I see and not have to deal with pitted scars in my face. If you or anyone you know who thinks they have to just live with these scars, don't!"

— Ator A., 20's Eastern Indian from Ontario, Canada
"My procedure went great and I left the office with no concerns and all of my questions answered. I have never felt so good about myself and my appearance. I have you to thank for that Dr. Young. My new nose is perfect, I cannot thank you enough for this new look on life."

— Nicole R., Fabulous Rhinoplasty