Initial Consultation
During your initial consultation with Dr. Young, you will be advised to stop taking fish oil, vitamin E, herbal medications, supplements, aspirin and anti-inflammatories a week or two prior to treatment. This reduces the risk of bruising.
Let Dr. Young know any of the prescriptions, over-the-counter remedies, herbal supplements, and oral or topical products that you take, and whether you may be pregnant.
You will have the opportunity to ask questions and relay any concerns and fears with Dr. Young.
"My goal was to find a method to bring back a person's natural youthfulness without the operated, unnatural look and that is why I have my patients bring in photos of them when they were age 5 to 30. My YoungVitalizer helps restore natural and youthful contours they haven't seen in years."
—Dr. Philip Young, Seattle Facial Plastic Surgeon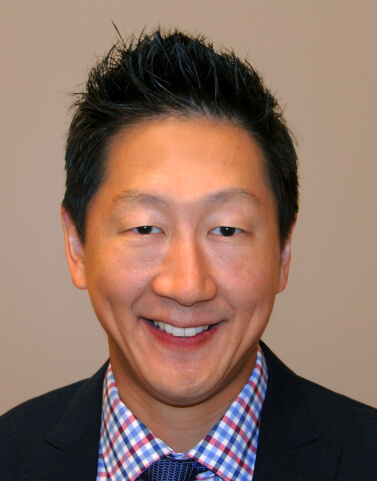 Procedure
Dr. Young uses advanced surgical techniques learned from years of education, including the world's best plastic surgeons. Dr. Young's theory on facial beauty gives him a unique perspective when meeting his patients to perform the best and most natural results. Through his theory and neck lift, you can look younger in a natural way.
Here is how a neck lift works: if you are over the age of 35, you may notice jowls, a sagging jawline, neck laxity and banding of muscles in the neck. During a neck lift, the sagging muscle and fat pads are tightened to obtain a long-lasting correction of the jawline and neck while applying minimal pull on the skin to avoid scarring.
Many surgeons take short cuts for different reasons, none that benefit you. A proper neck lift takes up to four hours. The platysma muscle is used by Dr. Young to tighten your whole neck. That muscle is sewn in the middle under your chin and down to the base of your neck and then back up again in a corset type manner.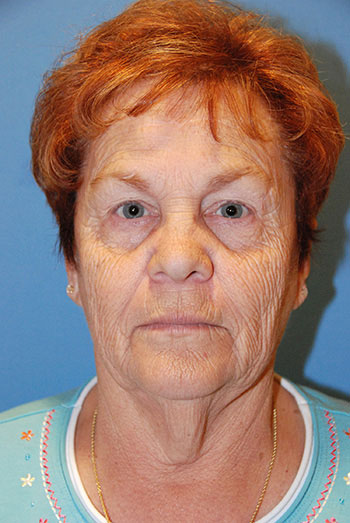 Neck Lift Before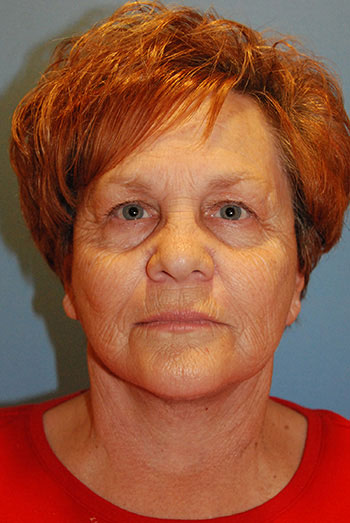 Neck Lift After
Note: Individual results will vary. Images do not constitute a promise or representation of any particular outcome or experience.
Dr. Young doesn't cut the muscle, which many surgeons do, because he doesn't believe it allows the muscle to tighten the whole neck evenly. Cutting the muscle can create odd appearances with your neck that are not appealing. Dr. Young elevates the platysma and takes out fat under the chin to help with contouring the neck. Within the area under the chin and platysma, he will alter the muscles if necessary.
The platysma muscle is the superficial muscle in the neck that Dr. Young uses to tight wrap the neck and shape it. The suture wrapping of this muscle is done in the middle of the neck under the chin and continues to the base of the neck and back again under the chin. It is often referred to as the corset approach. We use semi-permanent sutures. During this time, your tissues heal. The connective tissues create a more permanent shape to your neck. Your sutures will start to absorb and dissolve in a few months.
"I just wanted to leave a note and say that my procedure with Dr. Young approximately 6 years ago took years off my face. He did an excellent job and I am still enjoying the results. It was very much worth the downtime. I look exactly like myself, just younger. Thanks, again!"

— C.J., 40's caucasian female from North Lynnwood, WA
"He gave me my confidence back that I thought I would never get back. I can now look in the mirror and actually love what I see and not have to deal with pitted scars in my face. If you or anyone you know who thinks they have to just live with these scars, don't!"

— Ator A., 20's Eastern Indian from Ontario, Canada
"My procedure went great and I left the office with no concerns and all of my questions answered. I have never felt so good about myself and my appearance. I have you to thank for that Dr. Young. My new nose is perfect, I cannot thank you enough for this new look on life."

— Nicole R., Fabulous Rhinoplasty
Incisions
We've shown pictures of a patient who had a face and neck lift with an incision behind the ear, a broken line pattern. This part of the incision cannot be seen. The hairline is imperceptible in front of the ear and in the temple. People can't tell that there is an incision in front of the ear. It is a little more noticeable behind the ear.
Another set of pictures showed where we normally make an incision for a neck lift procedure. The incision starts in front of the earlobe, goes behind the ear and then along the posterior hairline. Sometimes we can avoid the incision right in front of the earlobe depending on a particular situation and the patient's needs.
You also have to treat the extra fat. With the neck lift approach, Dr. Young can expose the anatomical structures and reduce the unwanted fat rather than blindly like liposuction. He has developed a special technique to reduce the fat. Along with his personal approach in tightening the platysma muscle, these steps allow him to create amazing detail in the neck and reveal the beautiful underlying structures.
A small incision under the chin helps with the neck/platysma muscle. This incision is essential to do a corset platysmaplasty sewing the platysma muscle from under the chin to the base of the neck and back. The incision is placed in the shadowed area under the chin. It is a great place to incorporate this incision and hide it under the chin's shadow. When you talk to a person, this location is usually well hidden from someone's view. Someone would have to raise their chin to the sky to see the incision.
Dr. Young usually does not incorporate liposuction and takes out the fat in the neck through the neck lift incisions, a more complete way to remove the fat.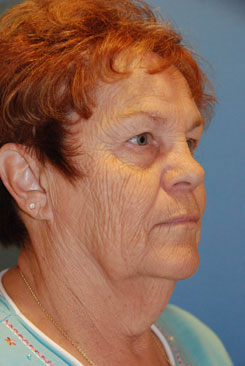 Before Facelift, Necklift, Liposculpting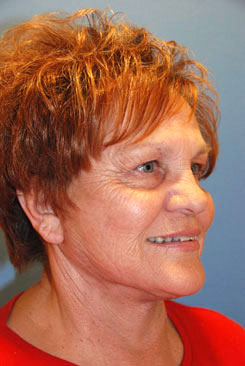 After Facelift, Necklift, Liposculpting
Note: Individual results will vary. Images do not constitute a promise or representation of any particular outcome or experience.
Recovery
It is natural to feel some discomfort after your surgery. Dr. Young can prescribe medication for the pain.
Dr. Young uses the finest sutures, some of which are smaller than your hair, which dissolve over a few days.
During your recovery, avoid excessive pulling on your skin which can lead to post-procedure stress on the incision line and cause more scarring. Carefully follow all of the instructions provided to you to care for your incisions. We do careful closure of the incisions to incorporate looser tying of the sutures to give less strangulation of the incision line and promote healing.
You will have follow-up appointments to ensure your incisions are taken care of and ensure optimal care. We usually set up an appointment the day after your procedure and again six days later. You can email us or call 877-597-7155.