Advantages of Beauty
Are you tired of people telling you that you look upset or tired? You can change that with the same results as patients who have taken advantage of Dr. Philip Young's theory of beauty.
Dr. Young discovered the importance of beauty learning about the influences of beauty while receiving his education and gaining experience as a surgeon. He won the Sir Harold Delf Gillies Award from the American Academy of Facial Plastic and Reconstructive Surgery for his theory on facial beauty. Dr. Young understands the differences in making a Botox injection successful.
Entitled "The Circles of Prominence," Dr. Young's theory allows him to select the proper muscles to eliminate frown lines and wrinkles while maintaining normal function. His knowledge of aesthetics makes the difference between a good result and the best possible Botox/Dysport rejuvenation result. Dr. Young's patients look rested and refreshed.
Many studies show the clear advantages that beauty gives people. People make the connection that "good-looking equals good." One study exhibited evidence that a western country's federal election saw attractive candidates received more than two and a half more votes as unattractive candidates. There are clear benefits to beauty. But you can do something about it. A procedure like Botox and Dysport is a simple avenue to achieving your goal and improve your appearance.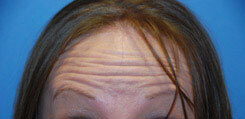 Before Botox® | Dysport® for Forehead Wrinkles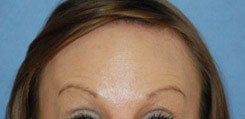 After Botox® | Dysport® for Forehead Wrinkles
Note: Individual results will vary. Images do not constitute a promise or representation of any particular outcome or experience.
Benefits of Botox
There is no downtime with a Botox injection and usually takes less than an hour. You will see results take effect in two to four days with the maximal results occurring two weeks after the initial administration of the injection. The results can last three to six months. Some patients on a regular maintenance program are more likely to experience a longer effect.
Most of the benefits are targeted at dynamic wrinkles, which are more pronounced with muscle movement. In contrast, static wrinkles are the ones that do not move your facial muscles. Not surprisingly, Botox/Dysport has more of an effect on dynamic wrinkles. But even static wrinkles can improve with an injection from Botox/Dysport because the skin is always under a state of remodeling by your skin cells. Many of Dr. Young's patients use Botox in the angle of the jaw to make this area smaller and get more of an oval shape to the face instead of a square face when one gets older.
Remember, the effects of these treatments last only three or four months. If there are issues with your treatment, you must return two or three weeks after your treatment for us to evaluate your current situation. We will need to decide whether the problem is related to your treatment or the natural dissipation of the effects. Make sure to tell Dr. Young if you have a history of allergy to human albumin, on an aminoglycoside, have a muscle disorder or cow's milk.
Having a surgeon with plenty of experience can make a world of difference. Dr. Young is conservative in his use of Botox/Dysport and he strives for subtle yet effective results. Within the forehead, Dr. Young uses two or three times less than the "usual" amount of the injection and less than half of the dosage that most practitioners use between the eyes.
Dr. Young believes in the accurate placement of Botox/Dysport and practices symmetrical markings to ensure even results. He is experienced in the use of Botox/Dysport in all aspects of the face from the forehead, around the eyes, below the eyes, around the mouth, and in the jaws (to narrow the lower portion of the face). He also has experience using Botox/Dysport for headache conditions related to temporomandibular joint dysfunction and other muscular conditions. Dr. Young uses the injections in the jaw/masseter muscles to decrease their bulk and improve the appearance of wide jaws, which can give women a masculine appearance. This is often found in Asian women. Dr. Young has a large population of patients who come to him for this particular issue.
"My goal was to find a method to bring back a person's natural youthfulness without the operated, unnatural look and that is why I have my patients bring in photos of them when they were age 5 to 30. My YoungVitalizer helps restore natural and youthful contours they haven't seen in years."
—Dr. Philip Young, Seattle Facial Plastic Surgeon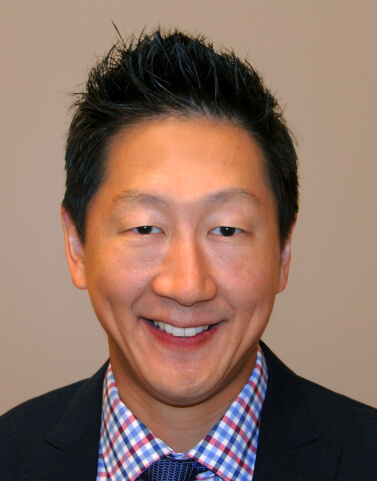 Forehead and Botox
To correct the forehead lines, Botox is injected in the forehead muscles. It is important to be even all the way across the forehead to control the forehead muscles evenly. We are able to change the position of the brows accurately through the placement of the Botox. We can raise the middle or lateral parts of the eyebrow and create the shape you want. Some of the traditional ways of doing Botox can lead to weird arching of the eyebrows, similar to the character of Spock in "Star Trek."
In terms of using Botox, you can choose to vary the effects by the amount put in and the location it is injected in. For the crow's feet area, Botox can be added all around the latter part of the eye but it can lead to an unnatural look because your smile is inhibited. What we do for the crow's feet area is shift the location of the injection to under the eye brow and, in doing so, give you a more natural look.
When you look in the mirror and see wrinkles keep in mind that this happens whenever you use the frontal lobe of your brain to activate those muscles by the crow's feet. During this activation, you were using all of the muscles there, something that does not occur normally and naturally. You are usually using your temporal lobe and might use 50-70% of the muscles in the crow's feet area.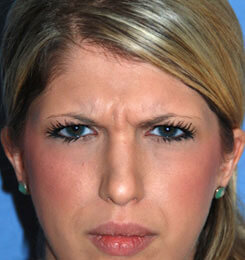 Before Botox®, Dysport® for Glabellar Frown 11 Lines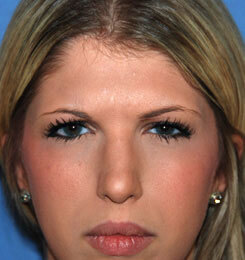 After Botox®, Dysport® for Glabellar Frown 11 Lines
Note: Individual results will vary. Images do not constitute a promise or representation of any particular outcome or experience.
Effects of Botox
Botox usually takes two weeks to reach maximum effect while Dysport is usually faster at only one week. Both products treat wrinkles for three to four months.
There could be lingering effects for up to six months. You can get a treatment every six months. It depends on how it works for you. Everyone has a different reaction to the injections. You may have less than ideal results in the first couple of weeks. Please realize that it may take a while for the Botox/Dysport to work and receive the full effects.
Botox and Dysport are neuromuscular agents that paralyze muscles so they don't work. When you don't move your muscles as much, you are not creating as many wrinkles. What you get treatment on are the dynamic wrinkles, the lines created by muscle movement. Botox and Dysport can affect static wrinkles over time if you continue using the agents because your skin cells are always working on the skin. When your skin rests, it remodels and lets the wrinkles remodel to a lesser degree. Hence, Botox and Dysport do not fill or add volume but rather paralyzes the muscles. Filling can lead to longer results.
Anesthesia
We make Botox as comfortable an experience as we can. For your comfort, Dr. Young uses topical ice to numb the skin to decrease the discomfort of administering Botox/Dysport. Topical anesthesia can be used if necessary. Another technique involves the practice of massager and incorporates the "pain-gate theory" using pressure during injections to decrease the pain perception.
Botox Specials
If you get your next Botox treatment within six months, we will give you a $25 credit for the next first area you receive treatment for. If you get your next filler treatment within a year, we will give you a $50 credit for your next first syringe.
"I just wanted to leave a note and say that my procedure with Dr. Young approximately 6 years ago took years off my face. He did an excellent job and I am still enjoying the results. It was very much worth the downtime. I look exactly like myself, just younger. Thanks, again!"

— C.J., 40's caucasian female from North Lynnwood, WA
"He gave me my confidence back that I thought I would never get back. I can now look in the mirror and actually love what I see and not have to deal with pitted scars in my face. If you or anyone you know who thinks they have to just live with these scars, don't!"

— Ator A., 20's Eastern Indian from Ontario, Canada
"My procedure went great and I left the office with no concerns and all of my questions answered. I have never felt so good about myself and my appearance. I have you to thank for that Dr. Young. My new nose is perfect, I cannot thank you enough for this new look on life."

— Nicole R., Fabulous Rhinoplasty