Testimonials | Reviews for Bellevue & Seattle' The YoungVitalizer, Our Breakthrough Incision Less Face Lift Procedure & Dr. Philip Young
Below Jan Schiffner tells us about her experience with The YoungVitalizer, The Incision Less Face Lift with our Office:
Note: Individual results will vary. Images do not constitute a promise or representation of any particular outcome or experience.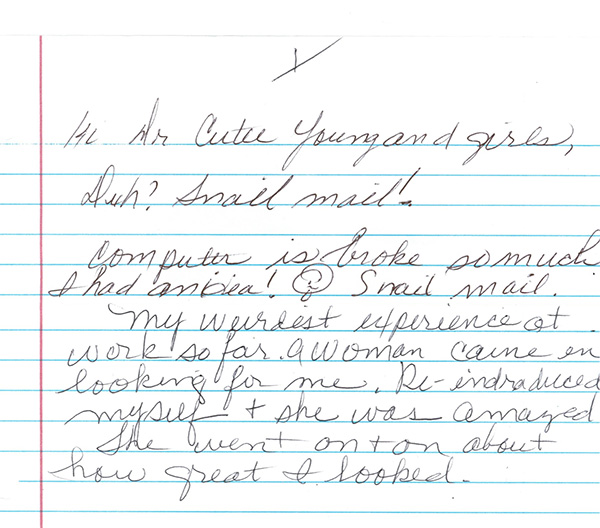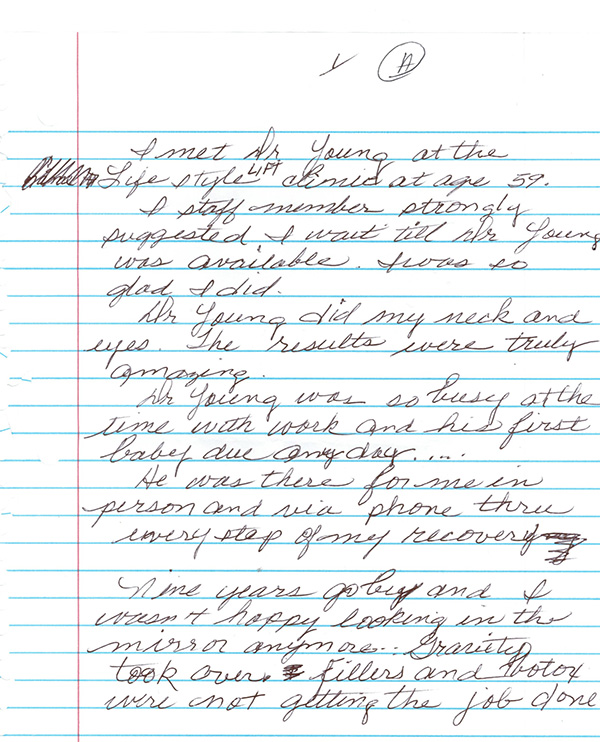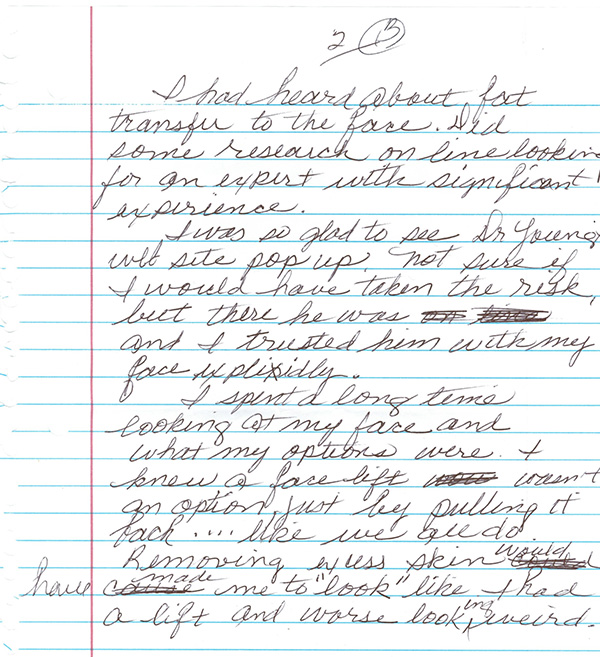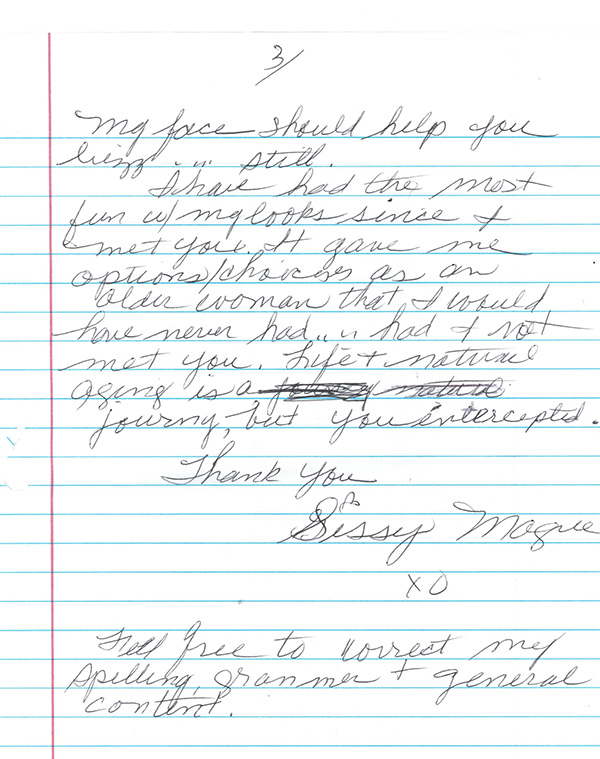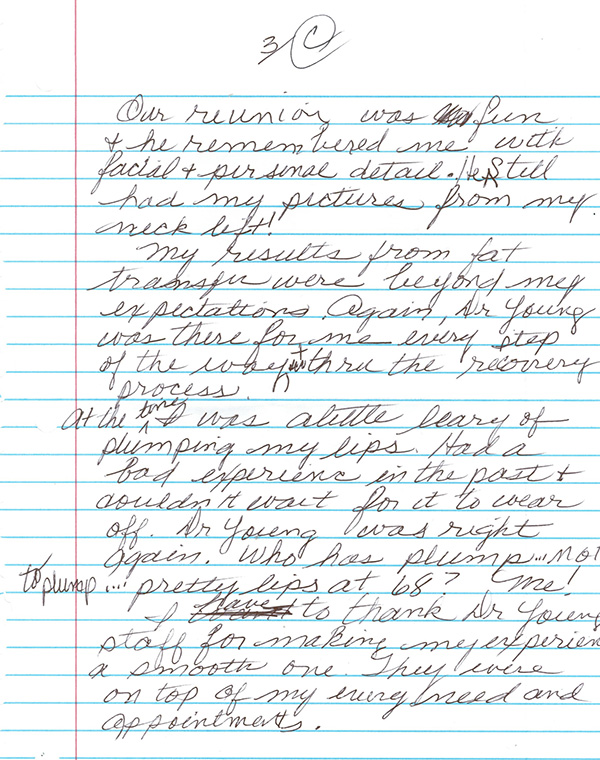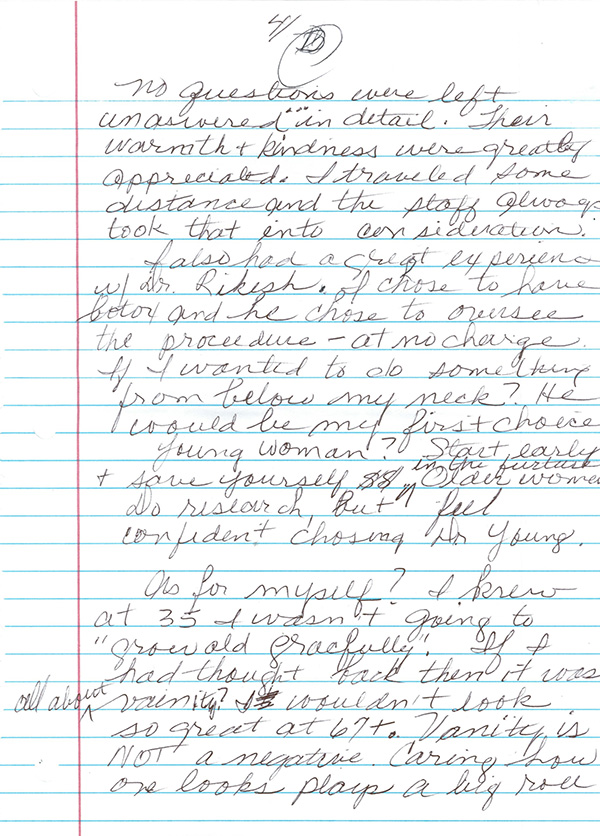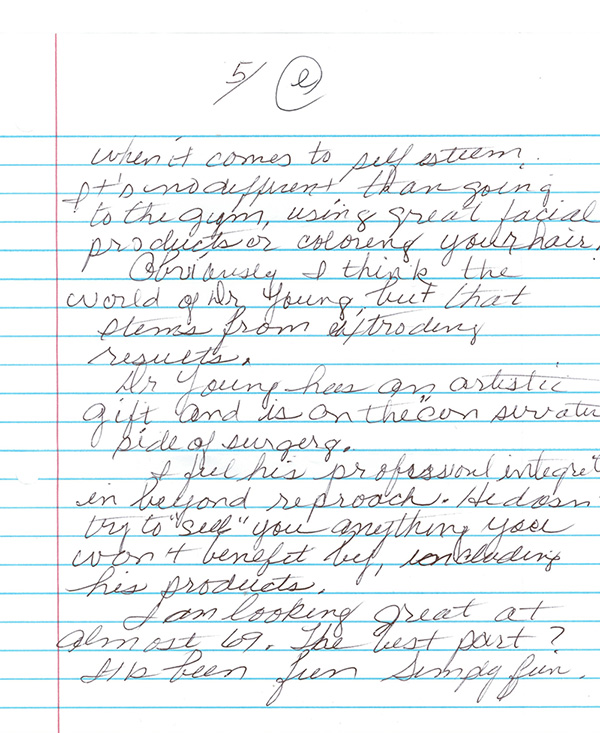 Featured Testimonial on 05/03/16:
OMG! my pic on an ad ! you know how vain and quirky I am. that was fun. you have the personality AND THE expertise to bring out the essence of what a potential patient needs and wants...even if they can't express it to you......... use what you want in my conversation. i can't seem to do this for you in one sitting at my putter. met dr young when I was 59 at LIFE STYLE LIFT.The woman who interviewed me at the clinic suggested I wait for Dr Young.,so I did. 9 years later? my neck looks better than my 40 yr old rivals. I have no rivals. just women who want to look how I look. most don't even know they have choices. I didn't pay attention to my neck or chest ever....dr young will put you on the right path and......avoid expensive surgery in the future. I had no mentor at 35. I indulged in collagen shots and retin a. the future of my "face" was about Botox® and safer/longer lasting chemicals. no knowledge about fat transfer? did it, but didn't expect a 5 week recovery experience. really who cares? THE LOVE OF MY LIFE IS in - s....@yahoo.com
Featured Testimonial on 10/30/15:
This is patient that wrote us regarding the YoungVitalizer:
"Hello Dr Young, For days I've tried to find the words to express the gratitude I feel for what you have done for me, you have artistically, intrinsically created with your hands such accuracy preciseness exactness Such youthfulness MY YOUTHFULNESS ........ I find myself stuck for words (as I just did). The thing is I try to, I guess understand how you can make these intricate details come to life the way you do. Its amazing its out right fascinating!! and It seems so easy for you. Anyways I am so thankful because you have helped me to achieve what I've wanted!! In baby steps and that has been ok. This time around was even more impressive and even more so!!! I guess thats why being patient can be so beneficial. I know this must seem more like a story but the moment is right NOW because finally a few thoughts are vibrating into words. I guess I'm saying WOW and thank you for giving me, I don't even know what to call it, I know it pertains to vanity but it is what it is. You are an incredible artist with with with words not coming....... you see the thing that seems to excite and intrigue me every time I see myself and the joy I feel, is your ability to create, what your keen eyes envision and you make into reality other peoples reality!!. What I see now a days is TOTAL WOW but then the other part is WHOA (You and your ability). OK the words are "sticking" again!! Dang.... but thats ok coz I been thinking these next few thoughts for years so these will be easy haha>>>>>I'm gonna say it, Dr Young!! You have way too much charisma than is suitable for a practice like yours haha lol WAIT! Theres more and In addition, I must say you are an extremely great looking man with a beautiful heart. You seem to care so much! Did I say thank you? Oh and I sure hope I can keep the fat and not lose anymore......... Julie: Holy cow she You are (if you are reading this) is like poise, calm, warmth, ease Etc..... I was so thankful to her that day and with each visit!! You guys were all so kind so helpful! TAHNK YOU!!! Your team (staff) they are all great. I hope they stick around. Your office can use that. EVERY office can! But most dont have it! See you all a month!"-WM Bremerton, WA
This is a patient that recently wrote us a very nice email on 11 |21 | 13:
I will state again how you "solved" beautifully every concern I had about my aging face.Eyes sunken and purple underneath sagging cheeks mouth/lips looking old chin and neck sagging. I have yet so much to accomplish and I was looking old to myself. I wasn't finished living!!!
I look like a "new" person…and a pretty one!!!
I am indeed "happy" with what you have done. It is quite a gift.
Love, Accolades to you and Gratitude,
More YoungVitalizer Testimonials:
1.
"I think the YoungVitalizer™ has made my eyes look so much better. My hairdresser didn't know what was done but told me my skin looked gorgeous."
- S.R.
2.
"I think the YoungVitalizer™ has taken me back 15 years. I don't look as tired. Before, even when I wasn't tired I look tired. Now that's improved a lot. My wife thinks it is a major improvement."
- L.R.
3.
"I went to see my Naturopathic Doctor and she said: 'You Look Great! What have you been doing to your skin'. So I was really happy about that"
- K.K.
4.
"Dr. Young has set the clock back so that I look as young on the outside as I have always felt inside."
-J.S.
5.
"The YoungVitalizer has really improved by cheek and eye areas. This has even persisted despite me losing 40 pounds after the procedure"
-L.W.
6.
"I look less tired and people think my skin looks so good"
- C.E.
7.
"One thing to appreciate in this before and after are the decreased wrinkles in the forehead as well as the improvement in the natural glow of the skin. Her lower eyelid hollows are also improved. These two pictures are taken without makeup."
- anonymous
8.
"Dear Dr. Young, Thank you so much for the amazing work you did on me. I feel refreshed, more confident and everyone who has seen me lately says I look great and wants to know what I have been doing or what herbs I have been taking to look this way. That is a real sign of a great doctor. One who can make you look like you – just more youthful and natural. In my business, it is important that I look rested and at my best. I would be more than happy to recommend you to anyone considering any type of plastic surgery.
With sincere gratitude,"
— M.M.
9.
This is a patient that we helped from Canada dated 6|13:
"Here are the after photos for ________. Everyone says you did an amazing job and I am very satisfied with your work. See you in five years? Goodbye for now."
10.
This is a patient that recently wrote us a very nice email on 11 |21 | 13:
I will state again how you "solved" beautifully every concern I had about my aging face.Eyes sunken and purple underneath sagging cheeks mouth/lips looking old chin and neck sagging. I have yet so much to accomplish and I was looking old to myself. I wasn't finished living!!!
I look like a "new" person…and a pretty one!!!
I am indeed "happy" with what you have done. It is quite a gift.
Love, Accolades to you and Gratitude,
11.
"I was quite sick a couple of years ago and during that time I lost a lot of weight and I also gained a lot of wrinkles.
As time went on I decided I needed to have something done that would improve my facial appearance and perhaps hopefully eliminate some of the wrinkles……
One day I was watching New Day Northwest and I saw Dr. Young introduce his Young Vitalizer Procedure to the TV audience.
I was amused and interested with the procedure because as Dr. Young described it , it's a procedure that is done under local anesthetic and it's not "a invasive procedure" which means that there's no cutting ,no incisions, and there's no general anesthetic . That idea suited my interest, especially since It was a "non invasive" procedure and recovery was minimal with the outcome requiring a much reduced recovery time.
So I made an appointement with Dr. Young to get more information about the Young Vitalizer procedure , scheduled my visit and met with his staff to review the plan….
My experience with the total procedure proved rewarding. I am happy with the outcome, my self image has improved and Dr. Young and his staff are very approachable about questions, recovery time and general information about post procedure care.
Dr Young himself, called or texted me frequently, offering additional care and attention.
I am happy to have had the procedure done and I am quite happy with the end result. -4|19|14″
12.
"from _____ I never noticed. your pics say it all. years ago [before I met you] no one was willing to do a filler anywhere near my eyes. I will get on my experience w/you soon. i'm the worst procrastonater. I spent a lot of time doing so not too long ago... I look so incredibly good for my age and better than some women at 40!!!... I appreciate you and your "cutting edge" expertise. most of all......I trust you w/my face. xo - 68 yr old Caucasian Female from Washington State
13.
Posted By shiva shorsh, May 2016:

I had my fat transfer by Dr. Young, a year ago. I loved how it looked when it was done and I still love it more every day!! the crazy thing is that no one really noticed I did this procedure but I start getting more compliments even by my own friends and family. they were telling me I look like I gain some weight and that I look healthier and pretty. I had more of a square face before and I am a skinny person but after this fat transfer to my cheeks my face was just prettier and more feminine more round!! although there is one tiny thing under my right eye it looks like there's a tiny bag not a lot of people notice unless I mention it! but I have talked to Dr. Young and we might try some filler to help smooth that. but I also might just leave it the way it is since I just feel so happy with my new look. and I love my result just as much as I did a year ago!! also I choose that the fat can be taken from the outer sides of my both thighs and there are two very small darker spots left there. Dr. Young offered to do a laser to remove them at free charges. but again they are so small I had to point to it for my mom to see it. I highly recommend Dr. young for any fat transfer and even have my sisters thinking about doing the same procedure . Thank you Dr young you're amazing. Lastly, just one fun example of the many changes in my life I've experienced after this procedure is that I used to get compliments about how I look so much like George Clooney's wife Amal Clooney and now after the fat transfer a lot of people tell me that I look so much like Kylie Jenner. so there you have an idea of how my look changed just by putting a little bit of fat under the eyes and cheeks :) still very naturally though this is what I wanted a dramatic but yet natural change.