Chest Acne Scar Treatment of Seattle:
In this case, there were many cavitations from acne. Skin treatments and Laser resurfacing or other surface treatments wouldn't treat all of this presentation of acne scars in the chest and in this situation.
We basically had to treat some of the deeper layers with volumizing techniques. We also combine this with some surface treatments as well using lasers another combination approaches. The after pictures show that the cavitations are improved although the patient was having a few breakouts to slightly discolor the actual real results that occurred through this process. The patients cavitations are markedly improved and have markedly gotten better with just one treatment. This procedure can be done under local anesthesia but we recommend using IV or general anesthesia
"For years I suffered from having to deal with acne scars. I saw many doctors and non who came close to Dr. Philip Young. He truly is amazing and has hands that work magic. I'm so greatefull to have found him. He gave me my confidence back that I thought I would never get back. I can now look in the mirror and actually love what I see and not have to deal with pitted scars in my face. If you or anyone you know who thinks they have to just live with these scars, don't! Call Dr. Young and go see him now! He won't disappoint, I promise. I flew from Canada to Seatle just to get this treatment done and it was well worth it!"— Ator A. May 2016 Eastern Indian 20's something female with darker skin from Ontario Canada
The Acne Scar Vitalizer is a unique approach to acne scarring that is based on a 5-7 step process that treats all types of acne scars and is all done in about 2 hours. You can get real results. Now you don't have to go through multiple procedures that only give you minimal results. We have taken over 15 years of hard self reflective work to figure out our best treatment approach to date. We have tried everything and find this treatment gets the very best results we have ever seen. The Acne Scar Vitalizer is based on treating multiple layers of the skin to treat a multilayered disease process. All 5-7 steps are used to treat all types of Acne Scars. Some of the techniques used are better for certain types of scars. Ice pick scars respond better to some treatments than box car scars. Rolling scars respond much differently than ice pick and box car scars. Elevated scars require a totally different approach. In the past, we would go through multiple excisions followed by laser resurfacing. Now we can treat all of your scars in one sitting in about 2 hours and we feel, on top of that, that we are getting much better results with just this one treatment. You can see our acne scar treatment before and afters to judge for yourself!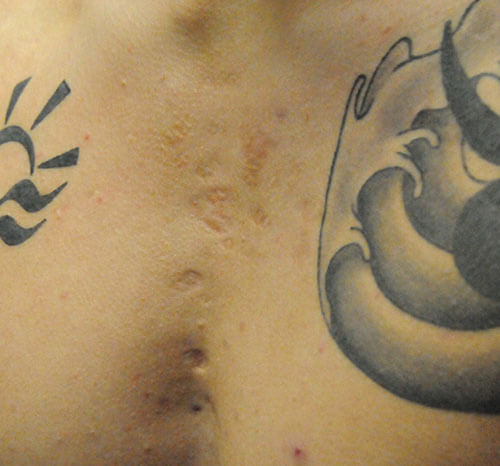 Before the Acne Scar Vitalizer Treatment for Chest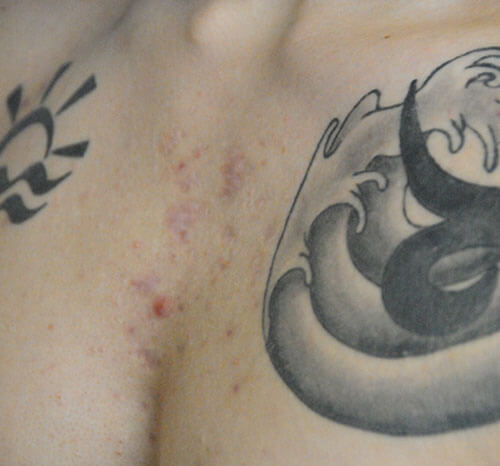 After the Acne Scar Vitalizer Treatment for Chest
Note: Individual results will vary. Images do not constitute a promise or representation of any particular outcome or experience.
"I just wanted to leave a note and say that my procedure with Dr. Young approximately 6 years ago took years off my face. He did an excellent job and I am still enjoying the results. It was very much worth the downtime. I look exactly like myself, just younger. Thanks, again!"

— C.J., 40's caucasian female from North Lynnwood, WA
"He gave me my confidence back that I thought I would never get back. I can now look in the mirror and actually love what I see and not have to deal with pitted scars in my face. If you or anyone you know who thinks they have to just live with these scars, don't!"

— Ator A., 20's Eastern Indian from Ontario, Canada
"My procedure went great and I left the office with no concerns and all of my questions answered. I have never felt so good about myself and my appearance. I have you to thank for that Dr. Young. My new nose is perfect, I cannot thank you enough for this new look on life."

— Nicole R., Fabulous Rhinoplasty