Macrotia & the Large Ear
Macrotia is a term used to describe a Anatomically Large Ear. This is different from a prominent outward protruding ear that is more commonly associated with Ear Plastic Surgery or Otoplasty (Oto = Ear, Plasty = to Change). A normal ear is about 58-62 mm long from top to bottom. The average adult female ear is 59mm & the average male ear is 63mm. In males, the ear length is 48mm at 6 months increasing to 55mm at 5 years and 59mm at l0 years. For girls, this is about 1-2mm smaller at each time point.The ear is about 80-90% of adult size at 5-6 years of age and almost fully-grown at l0 years. Thereafter, it remains much the same size until the age of 60 when it gradually enlarges, particularly in the earlobe location. This is thought to be due to volume loss in the ears and skin sagging.
"My goal was to find a method to bring back a person's natural youthfulness without the operated, unnatural look and that is why I have my patients bring in photos of them when they were age 5 to 30. My YoungVitalizer helps restore natural and youthful contours they haven't seen in years."
—Dr. Philip Young, Seattle Facial Plastic Surgeon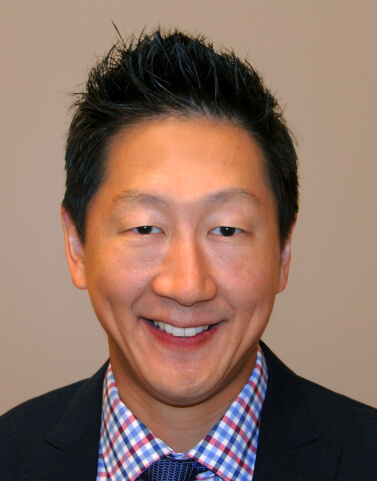 Prominent Ears
From a Prominent Outward Protruding Ear Standpoint, this specifically refers to how much the ears stick out from the side of the head from the frontal view. The ideal has not been known in actuality. Through Dr. Young's Theory on Beauty, we have determined this ideal distance is one colored part of the eye. This scientific paper specifically addressing this point will be published in early 2017 and presented at an academic Meeting called the American Brazilian Aesthetics Meeting that was held in Park City, Utah in February of 2015. Here is the actual presentation: New Theory on Facial Beauty:
The Circles of Prominence Key Shapes and Distances in the Face.
It has been mentioned in the past that the ideal distance from the back of the head to the most protruding part is about 16-18mm in an Adult.
Macrotia Ear Reduction Surgery
The way to reduce the ear is to physically excise a large part of the ear. In the video above, you will see the markings of how we remove certain parts of the ear depending on where the ear is actually physically bigger. This might entail removing a large portion of the middle part of the ear. Sometimes there are approaches that make an incision along the helix at the middle section that extends along the scaphoid fossa. Earlobe reduction may also play a part. In the video, we also resect some portion of the scaphoid fossa in a crescent manner similar to the approaches that entail making an incision at the middle section of the ear along the helical rim.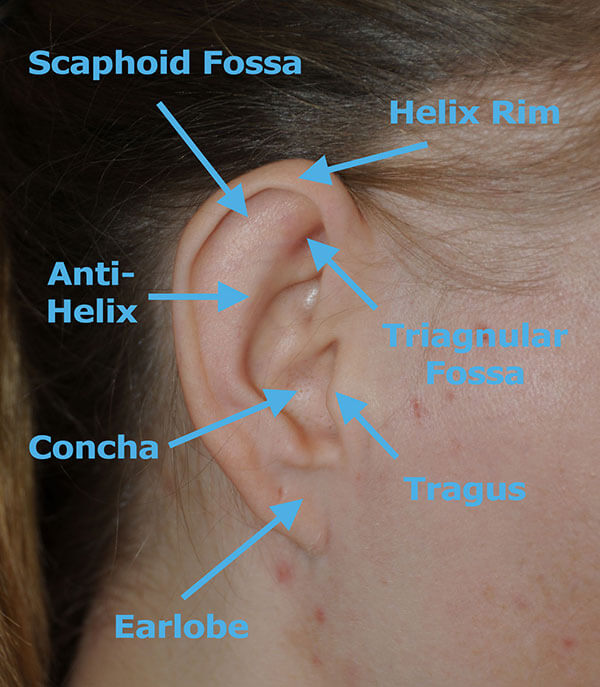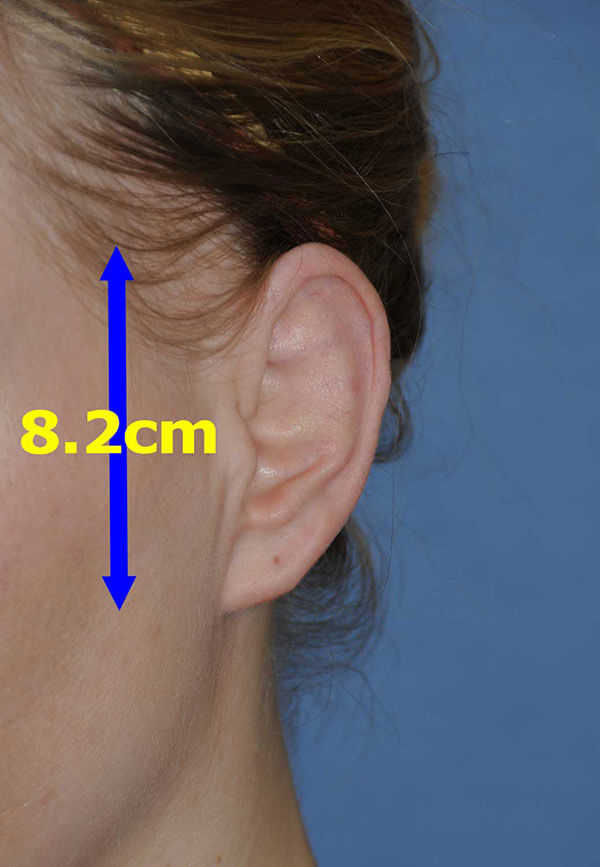 Before Large Ear Macrotia Reduction & Prominent Ear Pinning Otoplasty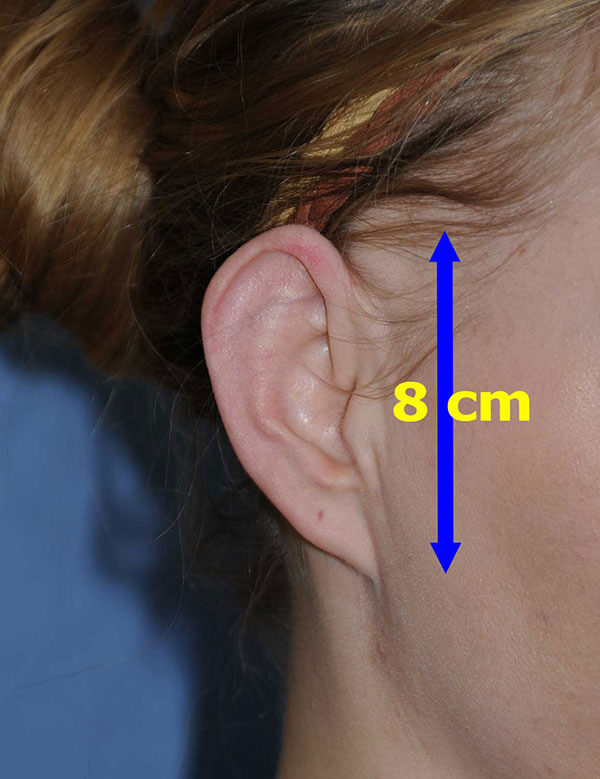 Before Large Ear Macrotia Reduction & Prominent Ear Pinning Otoplasty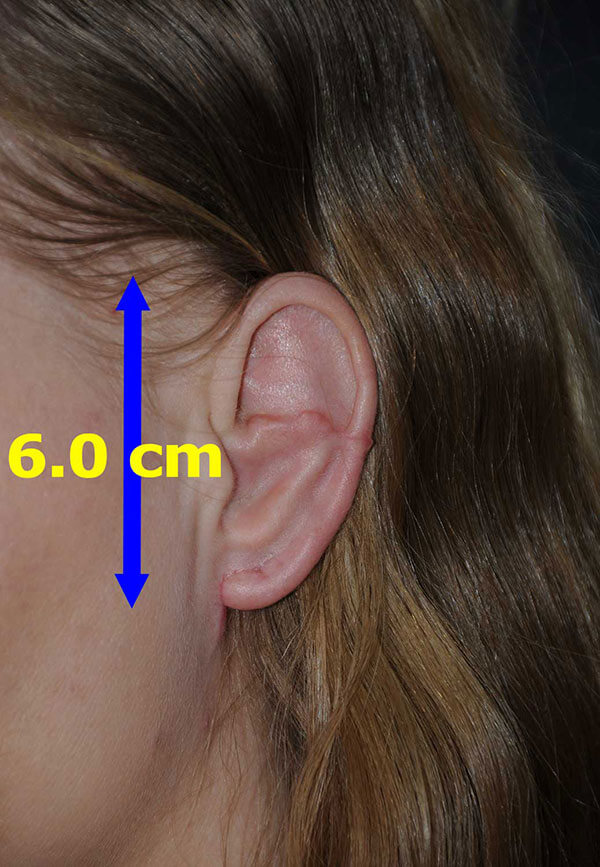 Approximately One Month After Large Ear Macrotia Reduction & Prominent Ear Pinning Otoplasty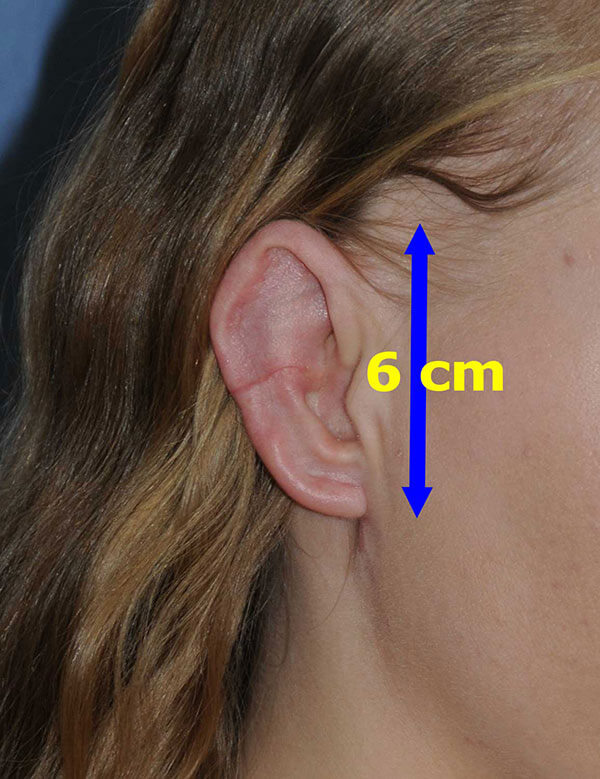 Approximately One Month After Large Ear Macrotia Reduction & Prominent Ear Pinning Otoplasty
"I just wanted to leave a note and say that my procedure with Dr. Young approximately 6 years ago took years off my face. He did an excellent job and I am still enjoying the results. It was very much worth the downtime. I look exactly like myself, just younger. Thanks, again!"

— C.J., 40's caucasian female from North Lynnwood, WA
"He gave me my confidence back that I thought I would never get back. I can now look in the mirror and actually love what I see and not have to deal with pitted scars in my face. If you or anyone you know who thinks they have to just live with these scars, don't!"

— Ator A., 20's Eastern Indian from Ontario, Canada
"My procedure went great and I left the office with no concerns and all of my questions answered. I have never felt so good about myself and my appearance. I have you to thank for that Dr. Young. My new nose is perfect, I cannot thank you enough for this new look on life."

— Nicole R., Fabulous Rhinoplasty