FACELIFT ALTERNATIVES
By Seattle Bellevue's Dr. Philip Young & Dr. Rikesh Parikh:
Dr. Young has performed over 1300 Facelifts and over 450 YoungVitalizer Incision Less Facial Rejuvenation Procedures:
Below is our Introductory video on the Facelift, Necklift & Mini Face Lift Procedure SCROLL DOWN BELOW FOR AN EXPLANATION OF ALTERNATIVES:
Note: Individual results will vary. Images do not constitute a promise or representation of any particular outcome or experience.
Click to see more videos on our YouTube Channel: "The Beauty Docs":
You Don't Have to Look Old While Growing Old. Get Your Confidence Back Again. Trust Your Face with a Facial Plastic Surgeon.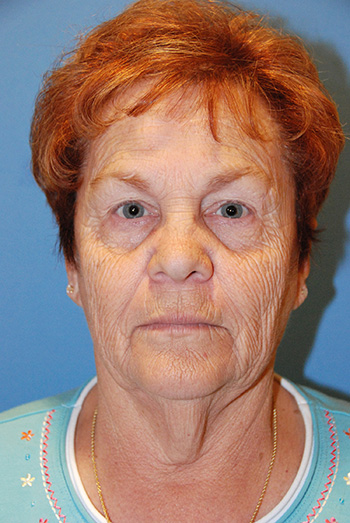 Before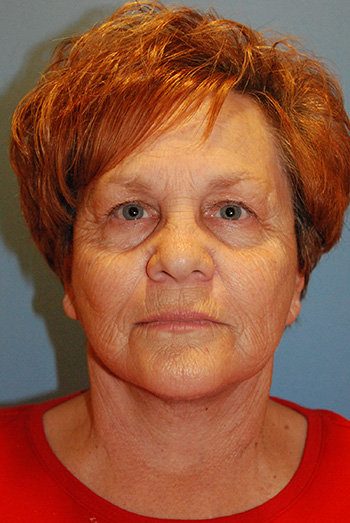 After
"After the facelift, I feel more confident. Younger guys are looking at me more. I'm more excited about the way I look and it has made me feel a lot better. A lot of people don't know what I had done. They just tell me I look great" —S.K. a 60's Caucasian Oregon Native.
Below you will read about all of the Alternatives to a Face Lift including YoungVitalizer, The Incision Less Facial Rejuvenation, Facial Fillers, Botox®, Fat Injections, Midface Lift, Cheek Implants, etc.
Award Winning Dr. Philip Young is a Facelift | Facelift Alternative Expert and Published author of multiple chapters in major plastic surgery textbooks and peer reviewed articles. Find out why people from all over the world travel (including Dubai, Japan, China, England, Singapore, Australia) to see him by following this link: Top Ten Reasons to Choose Dr. Philip Young.
More on Face Lift Alternatives:
More on the Facelift:
A Facelift can improve jowls, marionette lines, nasolabial folds, droopy face, and the wrinkles around the mouth. But what are some of the options and Face lift alternatives. In short, the alternatives include fat injections in the face, Botox®, fillers, facial implants, laser resurfacing, midface lift. Some other ancillary procedures include eyelift | blepharoplasty, browlift, lip augmentation, and neck lift. The YoungVitalizerTM is an incision less face lift alternative that was developed by Dr. Young. The YoungVitalizer is the natural facial rejuvenating procedure that requires no facial incisions, no general anesthesia, and is associated with much less discomfort than traditional procedures. You can find out more about Dr. Philip Young's Procedures on his YouTube Page | Google Plus Page here: Dr. Philip Young YouTube's Page.
How the Approach Changes Depending on what you want done with a Face Lift:
A facelift is carried out through an incision that runs in front of the ear and behind the ear. This incision then can go along the hairline. The extent of the incision depends on what you would like to change. If you want to pull up the face and improve the nasolabial folds and marionette lines | jowls you would need the incision to go in front of the ear as shown by the green arrow that is solid. This incision hides really well behind the tragus or the tissue | cartilage structure in front of the ear canal.  We explain more of what a Facelift does with this link: Facelift Explanation and Options by Dr. Philip Young.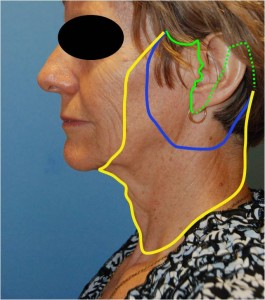 Most importantly, The facelift can improve mainly the jowls and also the nasolabial folds (although the face lift is less effective for this fold). The marionette lines and jowls can also be improved with a face lift.  From an incision standpoint, The incision above the tragus is needed to pull the nasolabial folds. The incision below the tragus is more important for the jowls and marionette lines. So based on what you want to improve your incision can change. For improvement in the neck, you need to extend the incision behind the ear and along the hairline as denoted by the green dotted line.
What is the best alternative to a facelift or best adjunctive procedure?
We think that it is a great idea to learn the other options and Alternatives to the Facelift as you will read below. However, we believe that the YoungVitalizer can be more effective for the nasolabial folds and the folds around the mouth due to its more natural look and longer lasting effects (You'll always look younger than a twin that never had it done in our opinion). It also can be more effective around the eyes than eyelifts and browlifts depending on your anatomy. In general, what we tell people is that if you want your jowls improved we would suggest a lower facelift. If it is the neck we suggest a neck lift. Everything else in the face can utilize the YoungVitalizer. You can Learn more about the YoungVitalizer by following this link.
Fillers and their Role:
Restylane®, Juvéderm®, Radiesse®, Perlane, Voluma™ are all fillers that can replace lost volume. When you age you lose volume and this leads to sagging. Most people think that you age from just the sag part and not the volume loss. The general thought in the minds of many is that the face drops from loosening. But in actuality, your face loses a lot of volume and this leads to a drop. Like how a grape changes to a raisin, your facial tissues draw or retract | shrink inward. With this the general movement is that your face come in and then drops inferiorly as well. Fillers can help with some of this reversal. But because fillers are expensive to make, they typically only treat small areas of the face. Your face ages not in small areas but it is a general and overall aging. So to get a general overall all effect, it can be a better approach to volumize and rejuvenate the whole face. This is where the YoungVitalizer can play a role. Importantly, we are not advocating the YoungVitalizer for everyone. But this can help everyone to some degree. Facelifts can be important when the overall volume of your face has increased over the years from weight gain, etc (or if the grape went to a bigger grape then raisin).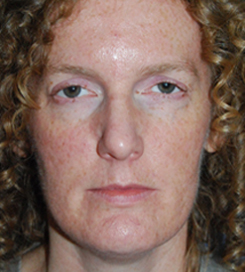 Before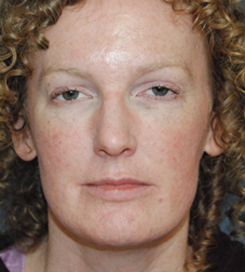 After
What about a midfacelift?: 
In general, here at Aesthetic Facial Plastic Surgery, we don't think that Midface lifts really do much in making a person look younger. The aging of the midface lift is really due mostly to a volume loss of the cheek fat and to make someone look younger here, volume is the answer. We use fillers, fat injections, implants and the YoungVitalizer to improve the appearance in this area. Hence, facial implants can play a role by restoring lost volume as well. Cheek, Chin, Jaw, Temple and Forehead Implants can all play a role in reversing this volume loss through aging. We choose this in the case when a person doesn't have enough tissue to contribute to their facial volume, or for instance when the person is too skinny.
Below is a person who had facial implants, including multiple cheek implants. Notice how the face looks more youthful and also more beautiful as well: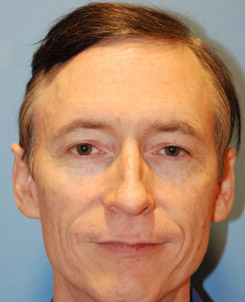 Before Brow Lift | Brow Bone Reduction | Cheek Implants | Hairline Lowering | Rhinoplasty | Chin Reduction | Permalip Lip Implants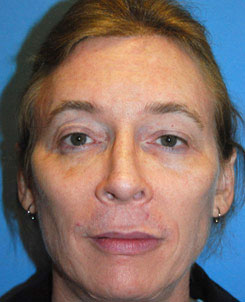 After Brow Lift | Brow Bone Reduction | Cheek Implants | Hairline Lowering | Rhinoplasty | Chin Reduction | Permalip Lip Implants
When do I consider a browlift?:
When you have sagging upper eyelids, tired eyes, extra upper eyelid skin, eyebrow drooping, upper eyelid drooping, wrinkles in the forehead you can start considering an Upper Eyelift or Browlift. When do you do which procedure? We would first consider a browlift if the distance of the bottom of your eyebrows to the eyelash was shorter than the width of the colored part of your eye. This is based on Dr. Young's Theory on Facial Beauty. This is because the ideal eyebrow height is that high. So our goal would be to pull your eyebrows up so that it was at least that high and not much more. When that distance becomes more than 1 1/2 times the colored part of your eye, or iris, you will start to look surprised. This would be considered firs before the eyelift. If your eyebrow height is already at the ideal height or more, and you still have eyelid drooping, extra upper eyelid skin, you could benefit from an Upper Eyelift. This entails taking out skin and other tissue to sculpt the eye.
Alternatives to Facelift and Browlift:
Most of the time, however, we seldom recommend a Brow lift. Take a look at the picture below: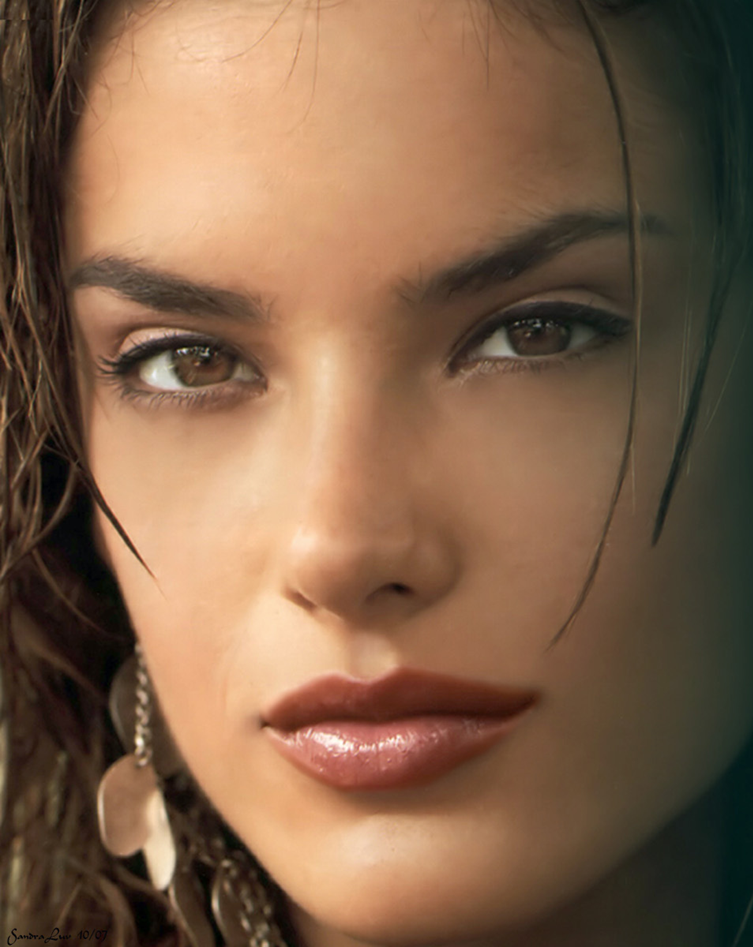 Brow Lift Model Explanation
We want you to look at the position of the eyebrow. Notice that the distance from the bottom of the eyebrow to the eyelash is relatively short compared to the width of the iris or colored part of the eye.  The point that I am trying to make is that you don't have to make this distance longer with a brow lift to make yourself look younger. It is something else about this position and shape of that brow that makes you look young. Take for instance Melanie Griffith here: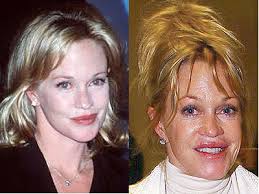 Melanie Griffith Browlift
If you notice in her before and afters, she is obviously younger in the photo to the left. But notice that her brows are lower in the left picture and higher in the older picture. But you can tell that she is obviously younger in the left. So in this case, her eyes don't look as tired but she is bordering having the surprised look all the time. In the before picture, her brows are lower but yet she looks younger than the right picture. So our point here is that the brow lift is not always the answer. We think that volume is a big part of this answer. We think that most people can benefit from filling in the temples and forehead to make someone look younger.  See the picture below. This person had no incisions but we were able to make her brows look a lot younger by just filling it in through the YoungVitalizer Procedure. We brought the light back to her upper eyelids and she doesn't look unnatural just refreshed and you don't really know why. That's whats great about the YoungVitalizer and other filling procedures that know where to place the volume.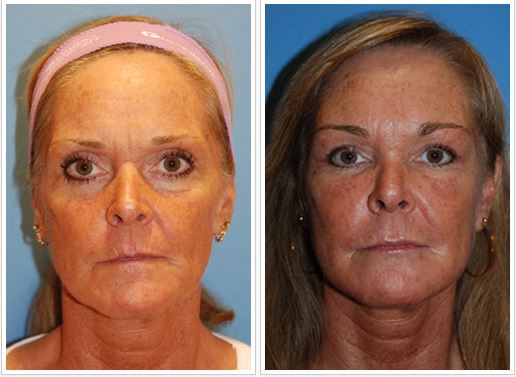 YoungVitalizer Incision Less Browlift
We are not saying that the YoungVitalizer is the best thing to do for everyone. We just have seen so many people happy with the results that its been hard for us not to feel compelled to bring it up to people. You can get some of these same results with fillers and other filling type procedures. But you just have to know where to place the volume and where to fill. This is where the YoungVitalizer has a lot of advantages. So when do you think about using the browlift. We think you need to consider this when your brows are really low. If your brows are less than an iris width above your lashes you could benefit from a browlift.
If you are interested at anytime about scheduling an appointment you can email, call 425-990-3223 and even text message us at anytime. Click here if you would like to find out more about our consultation process. We can set up a phone consultation for you and show you how to take the 5 basic photos that you will need.