Mid Face lift Cheek Augmentation of Seattle Bellevue
If you have sagging cheeks, but no jowls or banding of the neck, then a Mid-Face lift or Cheek Lift | Augmentation may be the best for you. Mid-facelifts address deep nasolabial folds and can be an alternative option to injectable materials. Midface lifts tighten and smooth the skin and muscle tissue in the cheeks. Depending on the aesthetic needs of each Bellevue / Seattle mid facelift patient, Dr. Young may employ a small incision above the ear and by the temple; or he many use very small incisions inside the mouth or under the eyelid. Permanent stitches secure the fat pads of the cheek to the right position. Compared to a full facelift, mid-facelift Seattle patients enjoy quicker recovery and a shorter wait for the final results.
In addition to mid-face lifts, Dr. Young believes in the idea of volumizing your cheek and midface area. He incorporates fat injections, and temporary fillers to achieve this volumizing. One amazing option that he has developed is the YoungVitalizer.

This procedure is a great option for facial rejuvenation for the mid-face or the face in general. It is our incision-less facelift alternative. It is minimally invasive, does not require general anesthesia, and is associated with much less discomfort when compared to traditional procedures. The other option that is even more minimally invasive are temporary fillers, like Restylane®, Radiesse®, perlane and Juvéderm®. You can read more about fillers here.
Dr. Young has discovered a New Theory on Facial Beauty that can be applied to create ideal balance between the facial features. As one ages, the tissue in the cheek decreases in volume and descends. This can often cause the lines around your mouth to become deeper and the bags around your eyes to become more accentuated. Dr. Young applies his internationally renowned understanding of facial aesthetics (Circles of Prominence theory) when performing mid-facelift in order to provide each mid facelift Seattle / Bellevue patient with the best possible results.
Below are some links for more information on Midface Lifts and alternatives to this treatment to the middle part of your face:
Procedure Photos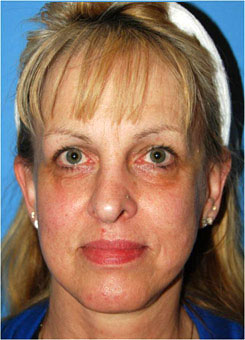 Before Restylane® Blepharoplasty | Injections to Lift the Lower Eyelids and for Cheek Augmentation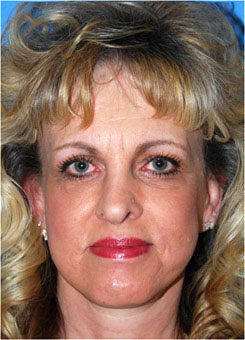 After Restylane® Blepharoplasty | Injections to Lift the Lower Eyelids and for Cheek Augmentation
Note: Individual results will vary. Images do not constitute a promise or representation of any particular outcome or experience.
"When I wake up, I don't look sick or 60 anymore. And I don't need to wear as much make up! Thank you, Dr. Young."
If you are interested in scheduling an appointment you can email, call 425-990-3223 (Office) and even text message 425-341-3893 (Mobile) us at anytime. Click here if you would like to find out more about our consultation process. If you live out of town, we can schedule a phone consultation with you and show you how to take the five basic photos you will need. For more information on preparing for your procedure, we have an informative Plastic Surgery Patient Care Page and Wound Care and Scar Prevention Page. If you are having a procedure, it is important to stay off blood thinners and the listed medications to avoid for two weeks before and two weeks after the planned date of your procedure.
* To reduce the risk of bruising, you will be advised to stop taking fish oil, Vitamin E, herbal medications, supplements, aspirin and anti-inflammatories 1-2 weeks prior to treatment, if possible. Inform Dr. Young of all of your prescriptions, over-the-counter remedies and herbal supplements, oral or topical products, and if you may be pregnant.
Please consult our Patient Care section for more helpful information. You can also read about our privacy policy on the resource page as well.
"I just wanted to leave a note and say that my procedure with Dr. Young approximately 6 years ago took years off my face. He did an excellent job and I am still enjoying the results. It was very much worth the downtime. I look exactly like myself, just younger. Thanks, again!"

— C.J., 40's caucasian female from North Lynnwood, WA
"He gave me my confidence back that I thought I would never get back. I can now look in the mirror and actually love what I see and not have to deal with pitted scars in my face. If you or anyone you know who thinks they have to just live with these scars, don't!"

— Ator A., 20's Eastern Indian from Ontario, Canada
"My procedure went great and I left the office with no concerns and all of my questions answered. I have never felt so good about myself and my appearance. I have you to thank for that Dr. Young. My new nose is perfect, I cannot thank you enough for this new look on life."

— Nicole R., Fabulous Rhinoplasty